There's Always a New Cybersecurity Threat – Let Webroot Help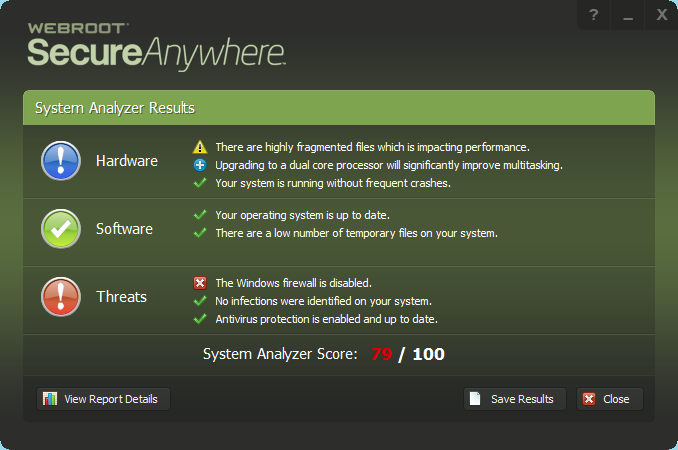 Nearly half of all consumers worldwide have been victims of cybercrime. Every link clicked, email opened, app downloaded, and network joined is an opportunity for hackers to compromise your personal data. Even established threats like ransomware are continuously evolving, and new threats like cryptojacking are being added to an already diverse threat landscape. Webroot offers complete protection from viruses and identity theft for all your devices, without slowing you down.
Powerful, lightweight, integrated protection for PC, Mac and Android, cloud-based Webroot Internet Security Complete with antivirus protects personal information by blocking the latest malware, phishing, and cyber-attacks. Being fully cloud-based allows Webroot to complete scans faster than our competitors, we scan billions of apps, files, and websites continuously to determine where and what is safe online. With real-time updates, Webroot protects against known and zero day threats. Where many of Webroot's Antivirus internet security competitors rely on downloading malware definitions straight to your device, analyzing and classifying them before being able to identify them, we store them in the cloud and are able to identify them in real time – as soon as they appear.
You might also like to read Best antivirus software in 2018
This allows Webroot to maintain a small endpoint agent that acts as the console on your device. It installs fast, scans fast, and benefits from a more robust threat library than any of our competitors. Not all virus protection is created equal, superior threat intelligence creates a superior antivirus and anti-malware product. As activities like shopping, banking, and financial planning continue to migrate to the web, the risk of cybercrime is on the rise. The features that help keep you safe – like password management, mobile security, and identity and privacy protection – aren't included in most free protection. With more than 250,000 new malicious programs appearing each day it is important you protect yourself and know that malware may refer to many different forms of hostile, intrusive, or intentionally harmful programs including: Phishing attacks, virus, adware, rootkits, key loggers, boot kids, payloads, worms, backdoors, exploits, spyware, ransomware, screen scrapers, scareware and more.
When it comes to protecting you and your family's devices, you get what you pay for.
COMPLETE PROTECTION: Total internet security by the number one provider of threat intelligence.
STOPS VIRUSES & MALWARE: Cloud-based antivirus provides internet security protection.
SECURE BROWSING: Scans in seconds to block phishing, ransomware, and other malicious attempts to steal your personal information.
AUTOMATIC UPDATES: Updates to the latest software version so you don't have to worry about installing upgrades.
US BASED SUPPORT: Free, award-winning, in-house, US-based support is available 24×7.
List Price: $ 19.88
Read Also How Fast Can People Expect A VPN To Be?