Anyone who's been a part of the cryptocurrency industry for a few years will have some nightmarish incidents to report of unlucky people losing their valuable bitcoins. From desktop trojans monitoring passphrases to digital wallet hacks, there are real risks, and cryptocurrency storage is yet to fully mature.
So, you need to implement a competitive strategy that secures your online assets – both for daily usage and extended storage. The thing is, picking a reliable cryptocurrency wallet is an integral part of using bitcoin. Unfortunately, not all wallet systems provide the necessary security; most are quite unsafe and it's hard to figure out which one will protect your cryptocurrency.
Read Also Finding The Best Bitcoin Mining Hardware
However, we've compiled a list of the best bitcoin wallets available to users that shield their private keys from prying eyes. Check them out below:
Blockchain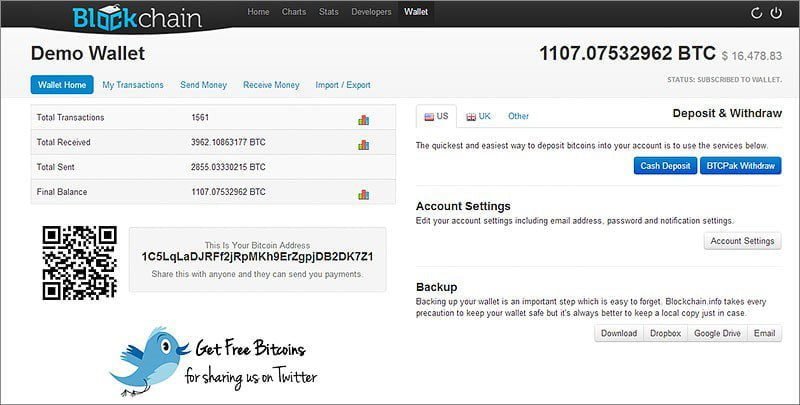 Blockchain is the company in charge of the most notable bitcoin blockchain analysis and checking platforms. So, it is no surprise that they are also the people behind one of the safest bitcoin wallets available in the cryptocurrency market right now. Simply dubbed Blockchain Wallet by the developers, this wallet is recognized for its ease of use and strong safety measures. More importantly, it supports numerous kinds of fiat currencies. This wallet relies on a backup phrase comprised of 12 words to keep your bitcoin safe and sound. Unless you enter the phrase correctly, you will be denied access to your funds.
Encryption for this digital backup occurs on your device only, which means you're the only one with the means of accessing the wallet and you always have the wallet's private encryption keys in your possession. As a result, you're able to take backups at your convenience. On its part, Blockchain uses strong encryption to create server-side backups. And if you want more security for your wallet, Blockchain still does not disappoint thanks to paper wallet imports, PIN protection, 2FA, and other features.  Moreover, Blockchain Wallet lets you submit the wallet code for frequent security audits. The wallet is available to download right now for iOS and Android platforms.
Electrum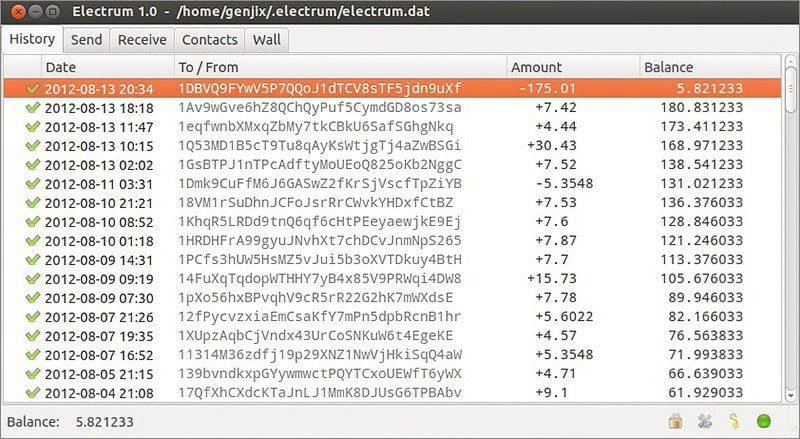 The Electrum wallet was designed specifically to keep bitcoin currency safe and sound. One of the oldest digital wallets in existence for bitcoin users, Electrum forms a wallet private encryption key. A seed containing 12 to 24 words is used for this process. As a result, the strength of your private keys ranges between 128-bits and 254-bits, making it highly impenetrable.
Users must pay careful attention to the seed phrase, as it also doubles up as a recovery tool. If you do not recall your password, your seed phrase will be the only thing that helps you recover your lost wallet along with the contents. Electrum has settled for the AES-256-CBC private encryption key, adding another protective layer to an already strong digital wallet.
If that's not all, Electrum also benefits from two-factor authentication (2FA) support, decentralized servers, multi-signature support, and dual support for USB drive installation and offline cold storage. Users can download the Electrum bitcoin hardware wallet for different Operating Systems, including Android, Linux, Windows, and Mac.
Jaxx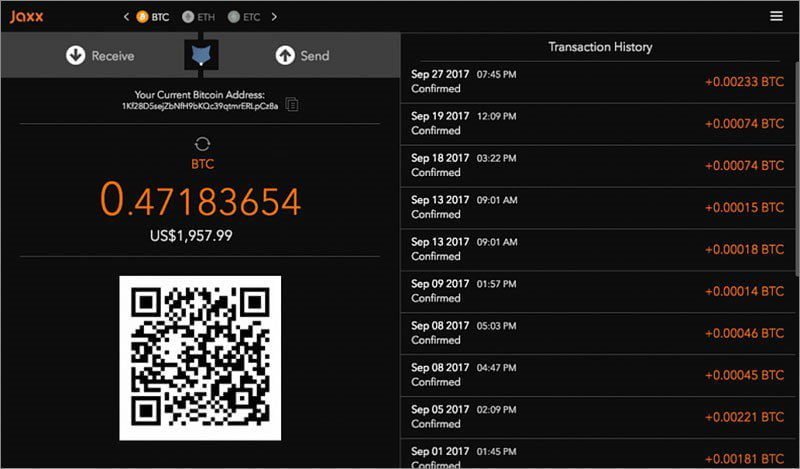 One of the biggest reasons why the Jaxx wallet is so popular among cryptocurrency users is its compatibility with more than 50 other currency tokens besides Bitcoin, including Ethereum, Bitcoin Cash, Litecoin, and Dogecoin. Thanks to its versatility, users can manage large portfolios from a single software wallet.
Jaxx is no slouch when it comes to security either. A 12-word seed is used for creating the private encryption keys of your bitcoin wallets, imparting them with a strength of 128 bits. Other than this, Jaxx's capabilities are GDPR-friendly, which means it never uses centralized servers to store user private wallet data, funds, or user information. Instead, all the details are saved on your system directly. You can download Jaxx for Mac, iOS, Windows, Linux, and Android.
Mycelium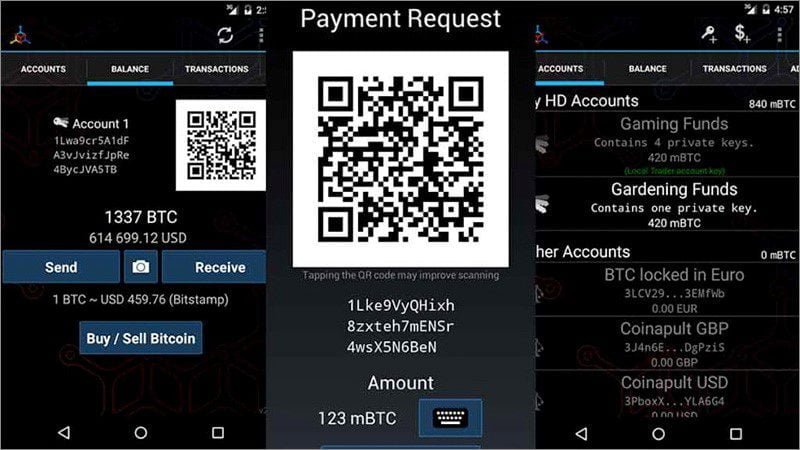 Another wallet meant exclusively for Bitcoin, Mycelium ranks consistently among the top cryptocurrency wallets on Android. Its features and capabilities helped it bag the coveted title of "Best Mobile App" from Blockchain in 2014. Mycelium mostly receives glowing reviews from users, and with good reason.
For starters, the tool is open source, which means you're able to inspect the source code directly for any holes and bugs. Then, Mycelium has a wide range of security functionalities that protect your cryptocurrency even in smartphones. Some of the most notable ones are PINs, multi-account management, cold storage functions, and control over the private encryption keys. This allows you to set up key restoration or deletion and wallet backup at your discretion.
On top of all this, Mycelium makes use of the master-seed technique, in which every single one of your wallets is connected to the initial seed. So, a one-time backup is all you need to restore every wallet you have. But keep in mind that even though you can set the app to ask for a PIN upon opening, there are no multiple signatures or 2FA support. This wallet is meant for Android users. An iOS app is available but there is no support, so you're better off not downloading that version. The Android one, however, is updated regularly.
Greenbits
Greenbits is a Bitcoin-specific wallet that adopts a minimalist approach for the user interface. However, there is no lack of security features. In fact, it is a lot more secure than many of the commonly used Bitcoin wallets available in the cryptocurrency market. The wallet makes use of a 24-word seed for optimum protection. The strength of the private encryption keys is all 256-bits. Other than that, Greenbits offers multi-signature support, 2FA, and conducts recovery transactions if something goes awry.
Moreover, you enjoy complete control over the network fees and are able to set them to the lowest amount. Combine this with wallet cycling and the capacity to use proxy Tor and you have a strong cryptocurrency wallet that focuses entirely on privacy.
A PIN keeps the Android Greenbits app completely secure. This PIN is created once you begin using the app. Later, you get a PIN prompt whenever you start the app. If the PIN is entered incorrectly three times, the encryption key gets deleted by the app. So, the only form of recovery you're left with is the 24-word mnemonic.
Concluding Remarks
So, there you have it – the best of the best available for bitcoin users. Of course, you will have to figure out which one suits your needs the best. But out of the countless wallets available to users, these provide the right balance of security and functionality.