Ivacy VPN Review
Ivacy has been in the VPN industry for 10+ years and has established itself as a trusted VPN brand among the user base. The most applaudable aspects of Ivacy VPN is its economical pricing plans, server network which is spread across 100+ locations and fluid apps that are available for almost every platform. With live chat feature and 7-day money back guarantee, Ivacy is an excellent choice for those looking for a fast VPN service without breaking the bank. Read along for the detailed review.
Pros:
250+ Servers in 100+ locations
Encryption protocols such as L2TP, IKeV, IPSec, OpenVPN, TCP & UDP
Compatible with Netflix, Kodi
Offers P2P optimized servers
7 days money back guarantee
Cons: 
Doesn't offer any free trial
Also use virtual servers
Affordable Pricing Plans 
Most of the time VPN users aren't sure which VPN to opt for because of the numerous options available to them, but the single most important factors that mostly tops it all is the purchasing power of the customer. Most of the tier-1 VPN services in the market are expensive with monthly subscriptions ranging from $2 to $15. Ivacy VPN is a decent enough choice in this aspect as it's minimum monthly plan is $2.25/Month if you opt for their Annual plan.

Although it might not be the best VPN in the industry, but the features, performance and the whole package that comes along with it is surely value for money.
Server Network:
Ivacy's server network is displaced all over the world with servers available in Europe, Middle East, Asia, Africa and America. The best bit about the servers is that we were able to access services like Netflix, Hulu without any hassle and we didn't experience any prominent connectivity issues.
Protocol and Encryption Offered:
Protocols are the most crucial and defining features of any VPN, but unfortunately it's the most underlooked too. But, Ivacy doesn't fall short in impressing us in this aspect too as it offers some of the most secure protocols such as L2TP, OpenVPN, IPSec, IKev2 etc, all of which offer maximum encryption which goes up to 256-bit encryption.
Torrenting On Ivacy: 
Not many VPN services support torrenting or P2P file sharing as it's a risky business because not many countries and entities rate this technology in gray area. It takes great courage for any VPN service to explicitly call out that it supports such functionality, and Ivacy is one of them as it offers numerous P2P friendly servers.
We were surprised to see that even after doing torrenting on Ivacy, we didn't experience any lags, slow speeds or interruption of any kind. The best bit is that it also offers internet kill switch which disables your internet if your connection from VPN server drops for any reason. It is extremely important feature for torrenteers.
Speed Test: 
It is a normal perception that your internet is bound to get slow if you enable VPN. This usually happens because of the encryption taking place and we were expecting the same with Ivacy too. We tested our internet speed with and without Ivacy enabled and shocked to found that we didn't face a big drop in our internet speed; in fact very negligible. Here are the details listed below:
Internet speed without Ivacy enabled:
Ping: 197 ms
Download Speed:78 Mbps
Upload Speed: 90 Mbps
Internet speed with Ivacy enabled on OpenVPN Protocol:
Ping: 143 ms
Download Speed:33 Mbps
Upload Speed:91 Mbps
App Interface: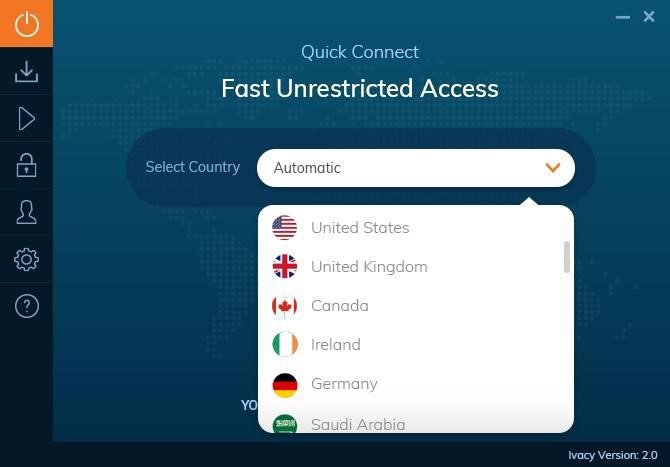 Unlike most of the other VPN brands which are hard to navigate and have an excruciatingly difficult interface to navigate, Ivacy VPN's app for both Desktop and Mobile is fluid, smooth and user friendly.
Conclusion: 
Ivacy VPN was a treat to review because it almost checked all the boxes for us. Although it has recently revamped itself and have smoothen out the rough interface and brand identity, but still they've come a long away. The only area where we found Ivacy lacking is that being so old in the industry, we expect Ivacy to offer some more features, support more addons and introduce more servers with their service as most of the competitors in the same price range are offering a lot more in the same package.