The Blitzwolf V2 1080P Android Projector is a portable and feature-packed device that aims to enhance your home entertainment experience. With its automatic keystone correction, 5G Wi-Fi connectivity, 200 ANSI lumens brightness, Android 9.0 operating system, and Google Assistant integration, this projector offers a range of capabilities for enjoying movies, TV shows, gaming, and more. In this article, we will delve into the features, performance, and overall user experience of the Blitzwolf V2 projector.
Key Features:
Automatic Keystone Correction: The projector features built-in keystone correction technology, which automatically adjusts the image to ensure a rectangular and distortion-free display, even when the projector is not positioned perpendicular to the screen.
Full HD Resolution: The Blitzwolf V2 supports 1080P resolution, delivering sharp and detailed visuals. Whether you're watching movies, playing games, or giving presentations, the high-resolution output enhances the overall visual experience.
5G Wi-Fi Connectivity: With built-in 5G Wi-Fi, the projector allows seamless wireless connectivity, enabling you to stream content directly from popular platforms like Netflix, YouTube, and more. You can also browse the internet, download apps, and access various multimedia sources.
Brightness and Contrast: The projector offers 200 ANSI lumens of brightness, ensuring vivid and clear images even in moderately lit environments. Combined with a high contrast ratio, the Blitzwolf V2 delivers vibrant colors and deep blacks, creating an immersive viewing experience.
Android 9.0 Operating System: Powered by Android 9.0, the projector provides access to a wide range of apps through the Google Play Store. You can enjoy your favorite streaming services, and social media platforms, and even install games for entertainment purposes.
Google Assistant Integration: The Blitzwolf V2 is equipped with Google Assistant, enabling voice control for various tasks. You can search for content, control playback, adjust settings, and perform other functions using simple voice commands, making your viewing experience convenient.
Performance and User Experience:
The Blitzwolf V2 projector delivers impressive performance across different scenarios. The automatic keystone correction works seamlessly, eliminating the need for manual adjustments and ensuring an adequately aligned image. The Full HD resolution produces crisp and detailed visuals, capturing the fine nuances of movies and games.
The projector's brightness and contrast ratio strikes a good balance, allowing for enjoyable viewing experiences in various lighting conditions. However, it is worth noting that in brightly lit environments, a darker setting may be required to achieve optimal image quality.
The Android 9.0 operating system provides a user-friendly interface, making it easy to navigate through menus, install apps, and customize settings. Including Google Assistant further enhances convenience by allowing hands-free control of the projector.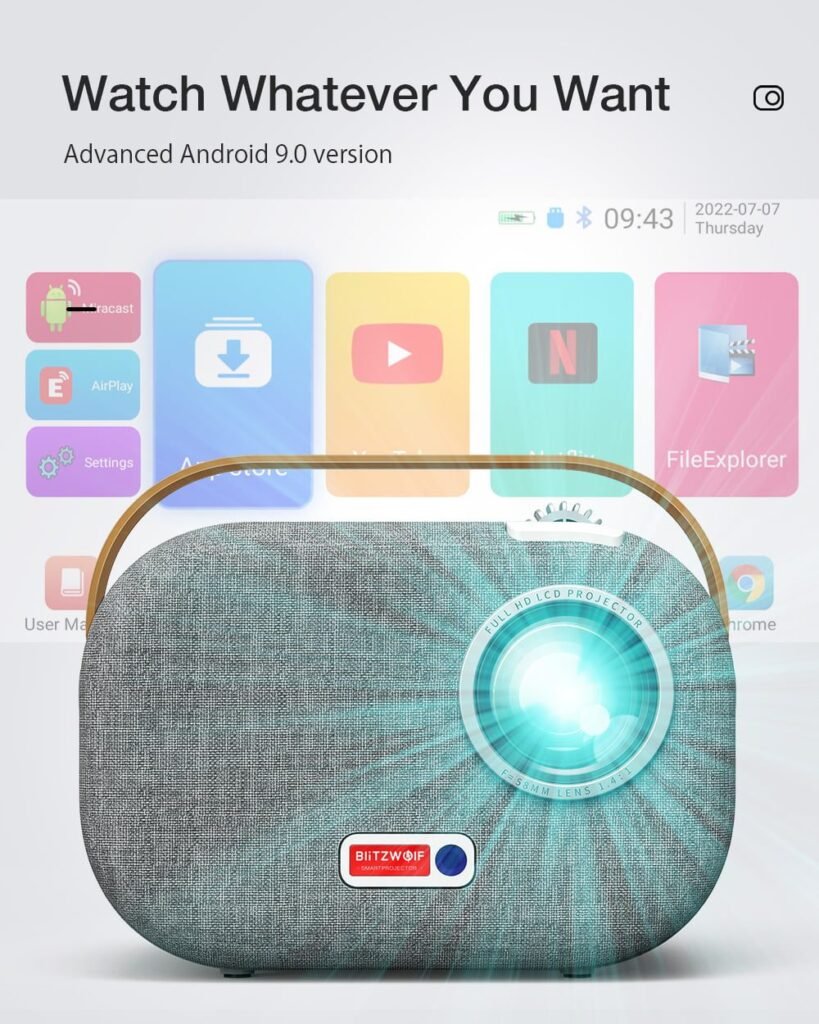 The compact size and portable design of the Blitzwolf V2 make it suitable for both indoor and outdoor use. Whether you're hosting a backyard movie night or want to take it on the go, the projector's lightweight construction and built-in speakers ensure a hassle-free setup.
Specification
Optical parameters
Type of light source
58W White LED
Display technology
3.5 inch LCD
Projection brightness
150ANSI (international standard)
Physical resolution
1920*1080P
Brightness uniformity
>85%
Projection parameters
Throw ratio
1.4:1
Screen ratio
16:9
Keystone
Automatic up and down keystone correction ±40°, support manual side projection function
Projection method
Support front projection, rear projection, hanging projection
Focus method
Manual scroll wheel focus
Built-in speaker
5W*2 Subwoofer Surround Sound Speaker
System parameters
CPU
MTK Decode 4K H265/AVS2 4K*2K/30HZ
Main frequency
64位 CPU:Contex A53 4 Nuclear GPU:Mali-G31
Cache
2GB DDR3
Memory
32 eMMC
Operating system
Android 9.0
Bluetooth
BT5.0 (can be connected to an external Bluetooth mouse, Bluetooth speaker, or Bluetooth voice remote control)
WiFi
2.4G + 5G Dual Band
Remote control
Standard infrared remote control, support external USB2.4G wireless remote control, Bluetooth remote control mouse
Interface input support
U disk, mobile hard disk, mouse, keyboard access, computer, set-top box
Wireless same screen
Support WiFi LAN on the same screen + outdoor hotspot on the same screen
Interface parameters
Expand storage
Support U disk and SSD solid state drive
USB input
USBHOST2.0*1
HDMI input
Support HDMI2.0 input
Headphone output
Audio output, 3.5mm connector (can be connected to headphones or audio)
Electrical Specifications
Machine power consumption
65W
Input voltage
AC100~240V
Conclusion:
The Blitzwolf V2 1080P Android Projector offers a compelling home theater experience with its versatile features and impressive performance. The automatic keystone correction, 5G Wi-Fi connectivity, Full HD resolution, Android 9.0 operating system, and Google Assistant integration combine to deliver a convenient and immersive viewing experience. Whether you're a movie enthusiast, gamer, or simply looking to enhance your multimedia experience, the Blitzwolf V2 projector is a worthy investment.
Upgrade your home entertainment setup with the feature-packed Blitzwolf V2 1080P Android Projector. Click here to bring the ultimate cinematic experience to your doorstep.
Please note that this blog article may contain affiliate links, which means we may earn a commission if you make a purchase through them. However, this comes at no additional cost to you and helps support our efforts in providing valuable content.