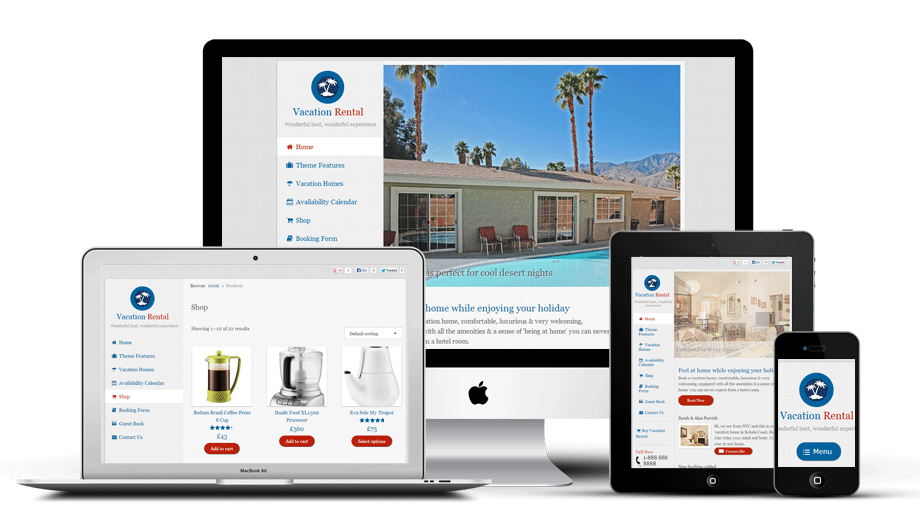 It seems amazing that, in 2019, around half of all small businesses are still yet to have their own website. In terms of marketing, nothing can touch the reach and effectiveness of what the internet brings, so by having no website, business owners have nowhere to point their potential customers.
In any industry, not having a website is going to limit success but this is particularly the case in an industry like vacation rentals which is a predominantly online industry. Practically all bookings will come from the internet as guests will live in other cities, towns or even countries.
To put it bluntly, a website is of big importance to a vacation rental business as you will see from the reasons below.
Why a Vacation Rental Website is so Important for Marketing
A website is a central hub to every type of marketing that you do for your vacation rental business. Everything will link back to it whether you are sending out emails, publishing blogs, or posting on social media. Your marketing will all have the same core goal of bringing people back to your website.
Without a website, where exactly would you want to direct your potential customers to? Your property listings on listings sites like Airbnb? While this is not the worst idea possible, you will be making less money due to the cut that these sites will be taking from your bookings. A website gives you the ability to take direct bookings and therefore earn a bit more on top.
Why a Vacation Rental Website is so Important for Bookings
Of course, bookings are what any vacation rental owner needs to make it worthwhile owning the property in the first place. While listing a property on a listing site such as Airbnb and other third-party listing sites will go a long way to attracting bookings, you have to consider the costs involved.
You will have to pay fees for using those sites that list your sites and accept payments, so these can take quite a chunk out of your bottom line. By having a website alongside listing your property on these sites, you will be able to pick up direct bookings that do not incur any of these fees. This is a benefit not only to you and your bottom line but also a benefit to your customers as they can get a better deal as well.
Additionally, vacation rental website software such as Lodgify can help you to manage your bookings more seamlessly. If you have a number of properties, your website can be used to synchronize bookings made across all of the channels that they are listed on. This ensures that no double bookings are made and that you just have to be in one place to manage each of your properties.
Why a Vacation Rental Website is so Important for Your Brand
Brand awareness is extremely important for any business. When you think of soft drinks, fast food, cosmetics, clothing, you will have a number of well-known brands springing to mind. People are always aware of brands in any industry and this is no different when it comes to travel.
Sure, branding for a small vacation rental business is never going to be needed at the level of huge international brands. However, developing a brand could be the difference between your property being chosen over another.
A website is where your branding starts and finishes. This is where you can implement a logo, a color scheme that defines your brand, and the values that you as a business want to live by. Any visitor to your website will see all of this and remember it – your brand will be ingrained in their heads. When they next consider booking a vacation rental, it will be your brand that they first remember.
Besides all of that, having a website is a sign of credibility. Many customers will first check to see if a vacation owner has a website and will usually avoid booking with them unless they do. It's professional and shows customers that you are serious about your business.
Where to Start with a Vacation Rental Website?
When it comes to creating a website for your vacation rental business, you essentially have two options. You can either go down the route of using a vacation rental website builder like Lodgify or by creating your very own generic website using the likes of WordPress or Wix.
Both can provide you with what you need but a vacation rental website builder provides many more advantages. These are designed specifically for vacation rental businesses and are therefore ready to go straight off the bat. They can take bookings, accept payments, and are very easy when it comes to adding new properties.
All of the above can be achieved with a CMS-style website as well but the process is lengthier and will require additional costs.
The Final Word
Simply put, anyone that does not have a website that is branded, can accept bookings and is showcasing their vacation rentals will soon be left behind by the competition that does. As well as being functional in terms of marketing your business, being a central hub for bookings and payments, and communicating with potential customers, a website brings credibility to your business.
If you are struggling to make an impact with your vacation rental business and do not have a website, that is probably the reason why. Begin the process of creating your own website and you can be sure that you will find it a lot easier to attract and manage rental bookings.