Cloud computing solutions have become an integral part of businesses in recent years. Cloud computing offers countless solutions to simplify and streamline business functions. And one of these solutions is cloud collaboration tools. Cloud collaboration tools have revolutionized corporate operations by facilitating seamless file sharing, communication, and teamwork among team members regardless of their physical locations.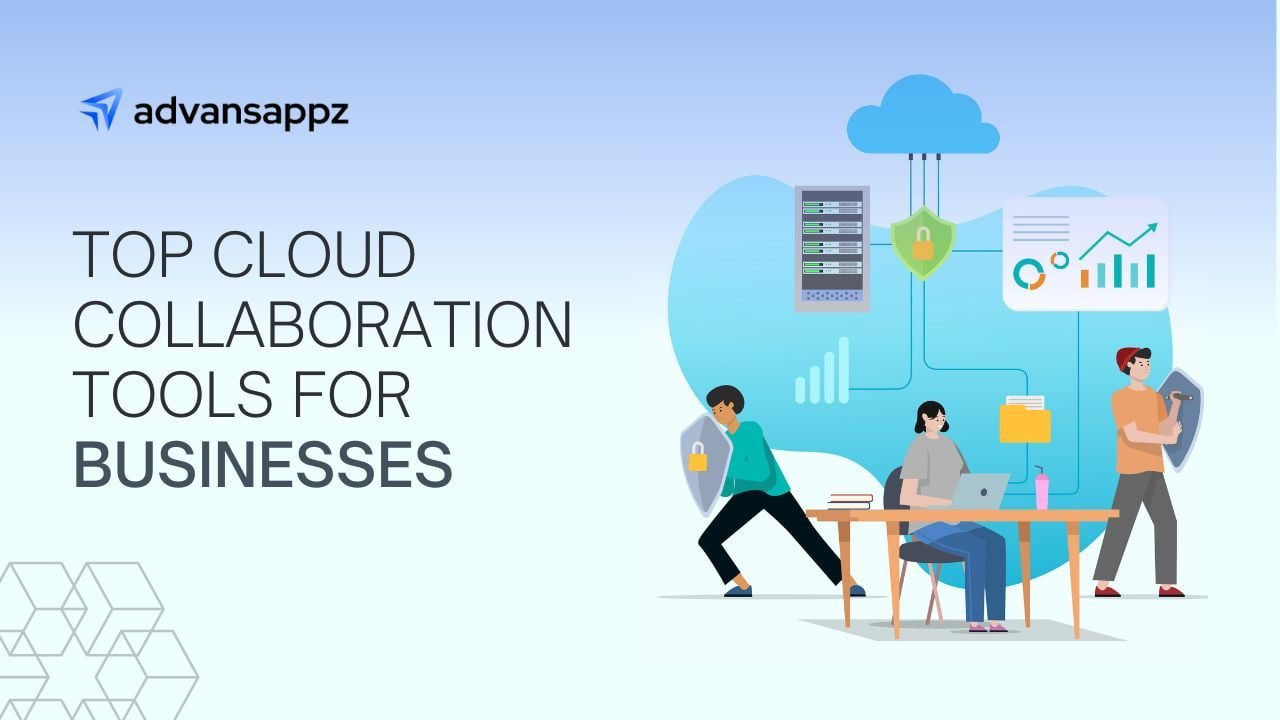 The top cloud collaboration tools for organizations, their features, advantages, and how they may improve productivity and teamwork will all be covered in this article.
Features and Advantages of cloud collaboration tools
A variety of features are available in cloud collaboration solutions intended to boost productivity. Multiple users may work together on papers in real-time editing, increasing productivity and lowering the need for email correspondence. File-sharing features make it simple and secure to share information. Collaboration is possible by monitoring changes and feedback through version control and commenting tools. Virtual meetings and distant cooperation are made possible through video conferencing tools.
In a poll conducted by IDG Communications, 59% of IT decision-makers stated that staff productivity has grown because to cloud collaboration technologies, while 45% noted cost savings as a critical advantage. In addition, these technologies' collaborative nature encourages cooperation, information sharing, and transparency, which enhances overall corporate results.
Top Cloud Collaboration Tools for Businesses
The comprehensive cloud collaboration tool package, Google Workspace includes Gmail, Google Docs, Sheets, and Drive. Businesses looking for effective and smooth communication frequently use it because of its real-time collaboration features and robust connectivity with other Google services.
Features: Real-time collaboration, document sharing, email, video conferencing, and cloud storage.
Advantages: Familiar interface, robust integration with other Google services, and extensive third-party app integration.
Limitations: Limited offline access and customization options.
Formerly known as Office 365, Microsoft 365 provides a variety of cloud-based productivity applications, such as Word, Excel, PowerPoint, and Teams. It offers enterprises a strong foundation for collaborative work because of its sophisticated collaboration tools, easy interaction with the Microsoft Office suite, and numerous security choices.
Features: Document collaboration, email, video conferencing, cloud storage, and project management tools.
Advantages: Seamless integration with Microsoft Office suite, extensive collaboration features, and advanced security options.
Limitations: It can be resource-intensive for older devices, and pricing may vary based on the selected plan.
Dropbox Business is a cloud-based platform for file sharing and collaboration that provides capabilities for collaboration, safe information storage, and file syncing. It is a popular option for corporations seeking efficient document collaboration due to its user-friendly design, simple file sharing, and device synchronization.
Features: File sharing and syncing, collaboration tools, cloud storage, and content management.
Advantages: User-friendly interface, easy document sharing, and synchronization across devices.
Limitations: Limited productivity features compared to comprehensive office suites.
In addition to word processing, spreadsheets, email, project management, and online meeting tools, Zoho Workplace includes a comprehensive suite of cloud-based productivity applications. It is a complete alternative for organizations of all sizes because of its reasonable cost, vast customization possibilities, and smooth integration.
Features: Document collaboration, email, project management, cloud storage, and online meetings.
Advantages: Integrated suite of productivity tools, affordable pricing, and extensive customization options.
Limitations: This may require additional training for users unfamiliar with the Zoho ecosystem.
Teams may plan, organize, and monitor the progress of their work with Asana, a cloud-based task management and project collaboration application. Asana equips organizations to optimize their collaborative processes with its user-friendly design, robust project management features, and interaction with well-known productivity tools.
Features: Task management, project collaboration, team communication, and progress tracking.
Advantages: Intuitive interface, robust project management capabilities, and integration with popular productivity tools.
Limitations: It may need more advanced document collaboration features than office suites.
Comparison of the Top Cloud Collaboration Tools
When choosing a cloud collaboration tool, it's crucial to consider aspects like user interface, cost, scalability, customization possibilities, and connectors. While Microsoft 365 offers superior security measures and a wide range of collaboration tools, Google Workspace has a recognizable UI and easy connectivity with other Google services.
While Zoho Workplace provides an entire suite with customization choices, Dropbox Business shines at simple file sharing and synchronization. Asana has an easy-to-use design that focuses on task and project management.
It's crucial to align the tool's capabilities with your unique business goals while considering budgetary considerations, user preferences, and data security standards.
Cloud Privacy and Security
Security and privacy issues must be addressed when companies use cloud collaboration platforms to store and share sensitive data. The security procedures used by cloud collaboration tool providers to protect user data include data encryption, multi-factor authentication, and regular security audits. Additionally, they follow industry-recognized standards for compliance, such as ISO 27001 and SOC 2.
However, organizations should do risk analyses to identify any possible weak points and take the required safeguards, such as setting access limits, educating staff about best practices for managing data, and routinely monitoring and assessing security processes.
Best Practices: Adopting Cloud Collaboration Tools
Businesses should adhere to best practices like these to implement cloud collaboration solutions successfully:
Choosing tools that are in line with the requirements of the company.
End users should be included in the tool selection process to ensure usability and user satisfaction.
Establishing governance standards and policies for access restrictions, data exchange, and usage rules.
Employee education and assistance are provided to ensure the tools are adopted and used effectively.
Future Outlook
Cloud collaboration technologies have enormous potential for the future. Business cooperation is projected to change drastically due to new trends like mixed reality, virtual reality, and artificial intelligence integration. Workflows will be streamlined, and productivity will be increased through AI-powered capabilities, including automatic document classification, intelligent task assignment, and natural language processing.
In addition, the divide between distant and in-person teamwork will be closed by virtual and mixed-reality technology, enabling immersive and engaging collaborative experiences.
Summing Up:
Modern enterprises can only function with cloud collaboration technologies, facilitating seamless communication, effective file sharing, and productive collaboration. Businesses may choose the best solution to increase productivity, strengthen teamwork, and promote success by knowing the features, advantages, and limits of the top cloud collaboration platforms currently on the market.
These technologies' practical installation and use will depend on carefully considering security and privacy protections and adopting best practices. Organizations must remain adaptive and accept new trends to stay ahead in the collaborative environment.