Although some operating systems have a basic screen recording function by default. But some will require third-party applications to capture video from your computer or mobile device. Additionally, native screen recorders that some platforms don't have enough or are versatile enough to meet your specific needs.
In such cases, there are often applications that can provide you with the screen recording feature you want, whether you're trying to capture live game action or create a technical troubleshooting video. Here are some of the best screen recorders below.
OBS Studio
Perhaps the cream of the crop when it comes to free screen recorders, OBS Studios is very popular with hardcore gamers for a good reason. This open-source software is great for video recording and live streaming, allowing you to record from multiple sources, including external microphones and webcams.
There is a collection of color images, color collections and other image filters, along with a high-quality audio mixer with advanced filtering that can be applied to each source. OBS Studio lets you integrate videos and other images into it. With your recordings, as well as capture user-defined portions of your screen along with living game footage.
In addition to allowing multiple recording formats, OBS Studio supports live streaming mix-ups and works with Twitch, DailyMotion, YouTube Gaming, Facebook Live, and Smashcast.
RecordCast
RecordCast's free screen recording solution is unique. It is a web app, which lets you start recording whatever you want. RecordCast is especially useful for users who want fast results for specific projects and don't want to install other applications on their computers.
This makes the software look simple. In a sense, you can choose the screen of the video, and capture any audio source you want. It has also provided basic editing options, including adding text, background music, and some other features. If you want to shoot a clip for YouTube and don't want to edit it with a separate video editor, RecordCast is an excellent choice.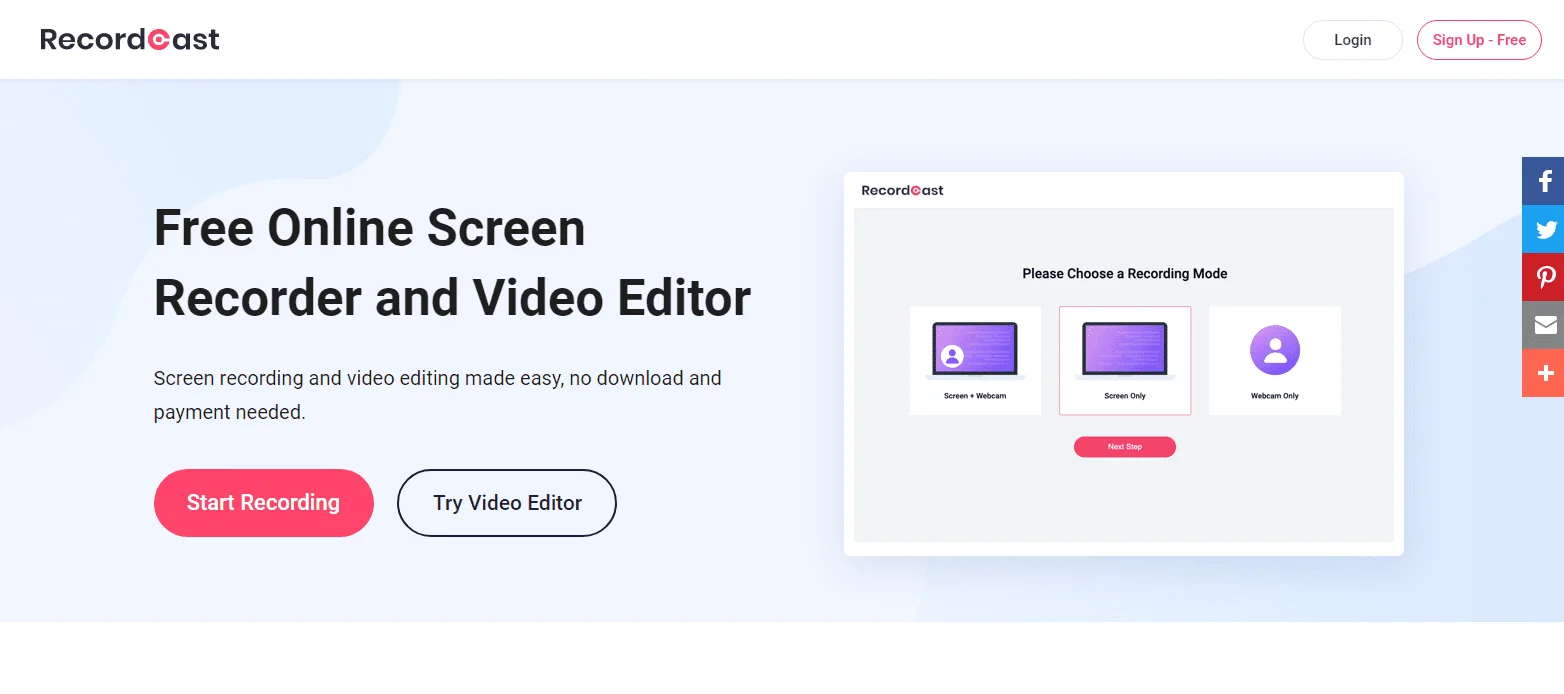 FlashBack Express
FlashBack Express is a paid application that has enough features to be a useful tool. The easy-to-use interface makes basic screen recording a simple task, and the free version doesn't impose any recording length restrictions or stamp any watermarks on your finished product.
You can set frames per second (FPS) for recordings, which makes it a great tool for dedicated gamers and schedule recordings to happen on specific days and times. FlashBack Express can also be set to start recording as soon as the designated application is launched, a handy feature that allows for complete capture. This software allows you to combine commenting and webcam with recorded video and record multiple images.
With that said, several useful features are only available in the paid version. The main difference is that you can only save songs in WMV format or upload them to YouTube in FlashBack Express. Purchasing a license allows you to save files in MP4, AVI, Flash, QuickTime, GIF, and standalone formats. Alone EXE Spending Money unlocks frame-by-frame editing to allow cursor movement, glitches, the ability to blur sensitive information, picture-in-picture, and more from a security perspective. Password protected, can be created in the paid version.
TinyTake
TinyTake is a more basic DVR than the others on this list. However, it's great for those looking for short recordings of specific on-screen actions or programs. Although not suitable for intense recordings such as gaming. But this software will handle basic screencast just fine.
There is a 5-minute recording limit in the free version. But cloud storage and Online Gallery offer up to 2GB of storage to store and share recorded clips. Time limits and cloud storage volumes are greatly increased with the purchase of a license.
The free app is ad-supported and is intended for personal use only, while commercial users and people wanting to use the advanced functionality of TinyTake have to purchase the premium version. There are different licensing levels at different costs depending on your specific needs.
Buying a license also opens up other features, including the ability to add annotations to your videos and upload them directly from TinyTake to YouTube.
Icecream Screen Recorder
With support for more than 50 languages, an overview control panel that allows you to add annotations, arrows, outlines, and other shapes and numbers to your video and webcam integration, Icecream Screen Recorder is a harmless choice. But it's interesting when it comes to screen recording apps. It includes the ability to drag and drop to select parts of the screen you want to save, as well as adjusting the quality level, which is a useful feature.
Icecream Screen Recorder has a lot more, too. But additional features and capabilities come with an attached price tag. For example, to lift the 5-minute recording limit, you need to upgrade to the Pro version, while the free version only has one output video format (WEBM) and video codec (VP8). Icecream Pro supports AVI recording, MP4 and MOV, as well as H.264 and MPEG-4 codecs.