Screen recorders have become so popular in modern times since people started using them to record tutorials to help their friends and even the game videos they were recording. Today, the demand for these recorders has still increased exponentially. The thing about these software solutions is that you have to decide which one is the right one with so many available on the market.
RecordCast Screen Recorder – the best online screen recorder
You can easily end up with something less than ideal if you are unsure of what you are looking for, which only causes more confusion along the way. However, we want to talk about the RecordCast screen recorder, one of the best online screen recording tools available on the market. The best part about this tool solution is that you can't really go wrong and can use it without any problems that might arise.
In this RecordCast screen recorder review, we will discuss various aspects that make this tool so good and why we believe this will help you get the best experience possible.

Features of RecordCast screen recorder
When it comes to screen recorders, most of the time, the features are pretty concentrated. Of course, you don't want to pay for features that aren't needed or are just tricks at best. Fortunately, this tool lacks any of the features that may seem rudimentary and come with all the basic and advanced features that stick to screen recorders.
Online Video Capture: If you have just found a video on the internet that you want to capture, but there is no way to download it properly, you can go ahead and start capturing it without any problems. You can capture videos from platforms like YouTube, Vimeo, TED, Daily Motion, and many other platforms. You don't even have to worry about not being able to capture audio because the tool already does.
Record Game Videos: If you are someone who prefers to record game videos so that you can share them with your friends or upload them, the good news is that you can easily do this when using this screen recorder.
Your Webcam Screencast: If you are teaching a few people through Skype or other similar tool solutions and want to record those lectures, you can actually use this screen recorder to record the hassle-free sessions you might encounter.
Create Tutorial: Another great feature is that it actually allows you to make tutorials. It has easy-to-grasp operations that you can use to make the most of the situation you're in and easily create great tutorials.
Basic Editing Options: The screen recorder also offers some basic video editing options, both in terms of videos and screenshots. It is ideal for those who want to be able to record videos and upload them immediately.
Instructions on how to use RecordCast
RecordCast is an intuitively simple online screen recorder, which also provides a built-in video editor. Its use is effortless, and when it works from the browser, just by accessing the application web and without having to install anything, not even that we register on the capture platform.

In the middle of the homepage, we find the recording buttons. When you click "start recording", a screen will open and allow you to record with three capture options (screen + webcam, the screen only, or webcam).
Then we can select one of the following audio recording methods during the screenshot:
Microphone + system audio
Microphone
System audio
No audio
Once we choose the audio option, a new window will ask for permission to access the screen and its subsequent capture. We can now give it to start the recording, and we choose what we are going to capture, including the entire screen, program screen, or Chrome tab (to record a video one tab on the web browser).
After finishing the video creation process on RecordCast, you will receive a notice from the website of this RecordCast to download to your computer. From this step, everyone can use or edit it as they like.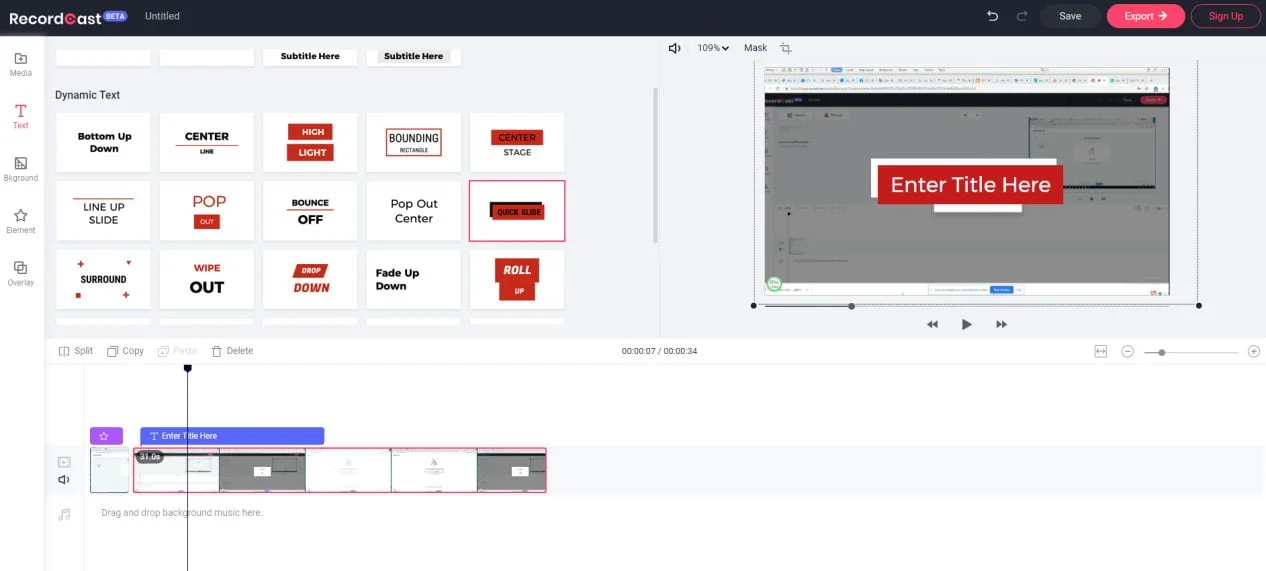 Summary of RecordCast review
Although there is no denying that screen recording tool solutions have become much more popular than before. Another thing is that you don't really need to complicate them. The simpler these tool solutions are, the better it will be for everyone. This is something that many developers do not understand, and that is why they end up complicating their tool solutions.
Fortunately, the RecordCast screen recorder is perhaps the simplest screen recording tool available on the market. The screen recorder is super easy to use and, therefore, ideal for all those lazy to write who want to describe and point out a problem quickly and easily.