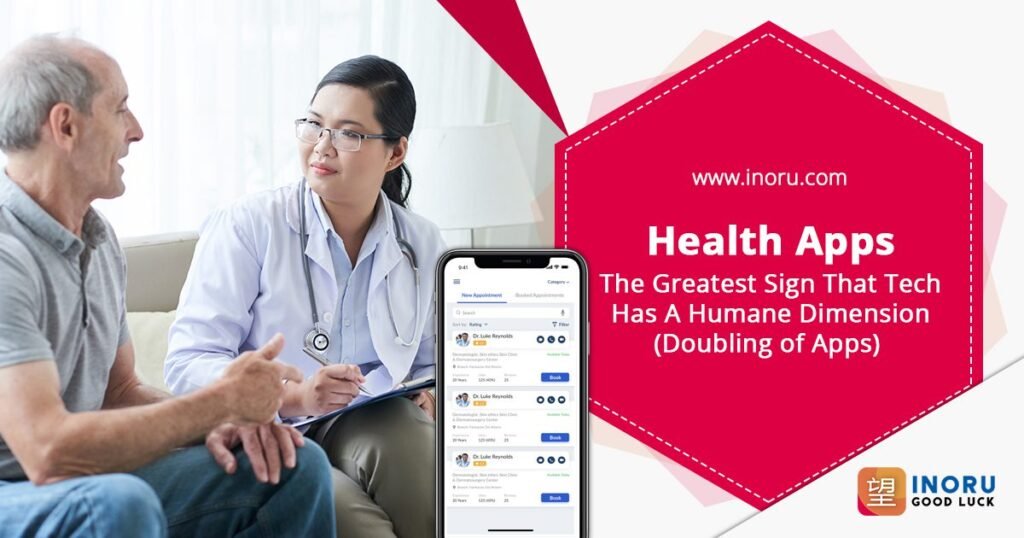 For a considerable stretch of time, health and technology were like poles that repelled each other. They had never crossed paths until the invention of the microscope in the early 1500s. Ever since then, non-medical sciences and technology have contributed to the growth of medical sciences.
Today, the latest buzzword in the realm of technology. The manifestation of this convergence of health and tech is best seen in health apps. Health apps have steadily been progressing – the number of apps has doubled in the past 4 years.
It is quite known that Google acquired FitBit for a whopping $2.1 billion, and it is one of the biggest signs that health apps will receive a lot of importance in the future.
Healthcare & Mobile – The Emergence of mHealth
Mobiles come equipped with a lot of massive measuring mechanisms that can help in gathering data related to personal health. The GPS shows the distance you have traveled, and the speed can be a good indicator if you walked or ran, or used motorized transport. The pedometers count the number of steps and the gyro and accelerometer sensors can give a lot of inputs about your workout activities. 
The capabilities and the accuracy of measurement have greatly increased because of the introduction of fitness wearables. Since these devices communicate with mobile apps over Bluetooth, they can be considered a part of the mHealth ecosystem as well. 
The Major Bifurcation
The downloading of health apps is seen across the entire spectrum of prices. This makes health one of the leading segments when it comes to using premium/paid apps. It is estimated that there are about 5 million instances of health app downloads on a daily basis, and 300000 of them are paid downloads. There are more than 95000 health apps and 45% of them are paid/premium apps. 
Health apps can broadly be classified into two segments:
Fitness Apps
These are the apps that track the different activities and go beyond just the surface numbers, giving details on the calories burned, the cardio-impact of the activity, and even diet suggestions and food/diet recommendations. 
Medical Apps
These apps are designed to give medical information. The app can be interactive (users can talk to experts) or static (responsive to search queries). Some of these apps can address specific situations like pregnancy and diabetes. 
Factors That Contribute To The Growth of mHealth
Let's all admit it! Today, health needs to be consciously maintained even for basic levels of healthiness… which was not the case about a trio of decades ago. Although factors like lifestyle changes can be attributed to the adoption of mHealth apps, the other reasons are listed below: 
Increased Mobile Adoption – The number of people using smartphones is increasing, and the best part is that it happens from both ends of the spectrum. On one side, teens are becoming mainstream mobile users, and on the other end, retro-era people are embracing new technologies. Who wouldn't want to feel happy and proud about the number of steps they've walked… or take a quick check on what symptoms mean!? 
The General Ageing Of The Population – As forecasted by the United Nations, 22% of the world's population will have retired by 2022, and this would mean that they'd need access to chronic healthcare, or medical advice at the least.
The Non-Urban Population – People who live in the countryside do not have access to sophisticated medical facilities that are available in cities. For the purpose of medical consultation, these people rely on health apps. Health apps can often host talk shows and Q&A sessions with expert doctors in their fields – something the country's population might not be able to readily access. 
Medical Staff Shortage – The ratio of the number of medical staff to the number of citizens is steadily dwindling. However, when a part of medical consultation can be done on a non-one-on-one basis, the crisis can be effectively addressed. Health apps pave the way for this communication between people and doctors to happen.
Increased Healthcare Expenses – It has been estimated that healthcare expenses will increase by 66% between 2015 and 2022 – from 3 trillion to 5 trillion. With this level of spending, health apps will be inevitable.
The Possibilities In The Health App Segment
Doctor Appointments – This is one of the most obvious and simple apps in the field of medicine. The app can follow an Uber model where it aggregates all the medical facilities/clinics/doctors in a locality and segments them by specialization.
Online Order of Medicines/Drug Info – People can order over-the-counter drugs directly, or prescription drugs by uploading a prescription. They can also look up information regarding medications, their side effects, their composition, and their alternatives. 
Booking Appointments For Diagnostic Services – Pathological labs can be crowded. Booking an appointment for a diagnostic test could be a great service provided by the app. The app can go the extra mile, recording health data and showing progress in graphs.
Creating A Healthcare App – Capitalizing On The IoT Revolution
When it comes to fusing health and technology, the possibilities are infinite. However, a lot of research has to go into understanding the market, understanding which app would suit the specific set of audience, and more importantly, devising a monetization plan. 
Conclusion
Companies that handle on-demand mobile apps are bound to be experts in creating health apps. Health apps either deal with multiple streams of data, storage, or location-based services – all of which are vital to on-demand mobile apps. It is important to take into consideration, the overall expertise of a healthcare app development company in data handling and user interface/user experience design.