Havok, which is an Intel® owned company is a leading provider of games development technologies, and works in partnership with the world's most renowned developer studios, publishers and developer teams, including Sony Computer Entertainment Inc., Microsoft Games Studios, Nintendo, NC Soft, EA, Insomniac, Ubisoft and Naughty Dog among several others.
Havok's cross-platform and professional supported technology has been made available for Xbox 360 games and entertainment system from Microsoft, Windows 7, Windows 8, PlayStation 3 and PlayStation 4 computer entertainment systems, PlayStation Vita, Android, iOS, Windows RT, Windows Phone 8, Linux, Wii, Wii U and Apple Mac OS. Havok's products have also in the past been used to drive special effects in movies such as James Bond, The Matrix, Harry Porter, Watchmen and Clash of the Titans. It has its offices in San Francisco, Tokyo, Germany, Seoul, Shanghai and Dublin.
Havok proudly announced the release of a completely 3D engine for mobile game developers dubbed Project Anarchy. All games that will be developed using the Project Anarchy technology will be deployed for free on Android, iOS and Tizen mobile platforms, without commercial restrictions on company revenue or size.
According to Ross O'Dwyer who is the Head of Developer Relations at Havok, the Project Anarchy also liberates game developers to generously explore game play ideas on those mobile platforms that use the same award-winning tools that PC and console developers have been utilizing for years. He continued to say that the complete set of tools provides powerful physics, animations and graphic animation capabilities to mobile game developers at no extra cost regardless of team and project size.
Project Anarchy basically supports Windows developers at the moment, with a majority of its tools including the animation tool and the WYSIWYG game editor being Windows only. The only Mac-friendly tool tends to be the one that is meant to let users prepare their project for iOS. The fact that Project Anarchy is totally free for mobile game developers makes this platform quite convenient for many developers. It is provided for free of charge regardless of whether the developers intend to charge for their apps.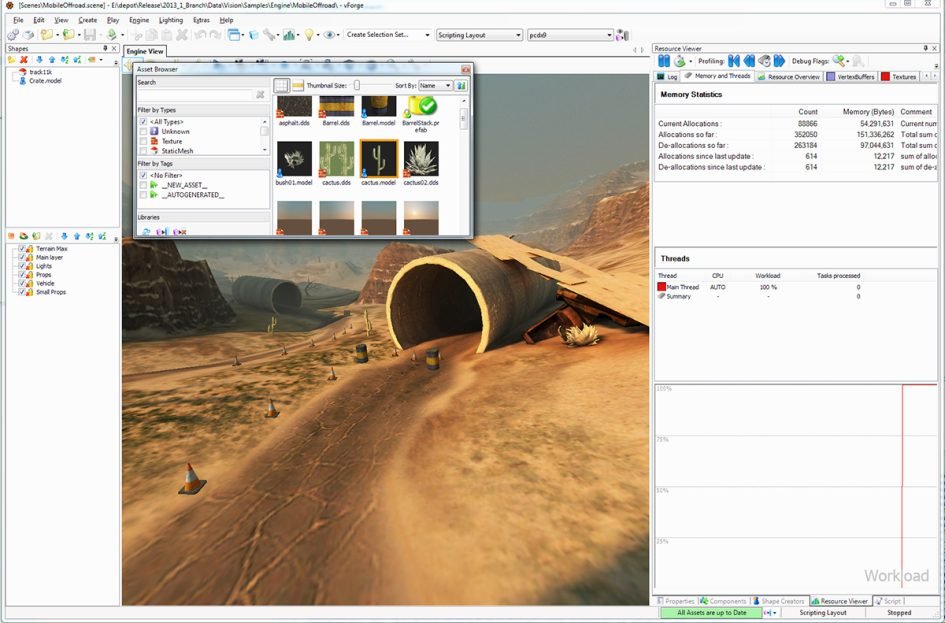 Besides the release of completely free 3D engine for mobile game developers, Havok released a new online hub that allows developers to participate in Q&A forums. The developers can also benefit from community support that is backed up by Havok's award-winning support team. The developers can also utilize the site to access upgrades and an extensive library of resources, including training, documentation, video and courseware tutorials.
After the announcement of Project Anarchy, Unity made an announcement that it would offer basic Android and iOS publishing support for free for small to medium sized developers. It also announced that it would provide free support for Windows Phone 8 and BlackBerry 10 soon after. The company would also continue to provide a Pro package with highly developed functionality, only requiring the developers to purchase Pro License once they have pulled in not less than $100,000 in a fiscal year. This means that developers have to make a choice to either develop their apps on Project Anarchy, which is a newbie in this industry but free on the two major mobile platforms regardless of how much they are making, or develop on Unity which is a geek in the industry, but charges not less than a hundred grand once a developer becomes big enough to show up on his ladder.
Mobile game developers can compare the new free 3D engine for mobile game developers and learn about the various changes that they will witness with this new technology. Learning about the pros and cons of this new technology can allow game developers to know whether it is worth their time and effort, and whether it will bring forth some good returns in the long run. With the introduction of this technology, users can also watch out for more exciting games in the near future. In spite of the pros and cons of the Project Anarchy, it is a win-win situation for everyone involved. Developers get to have more options, and the players get access to more games.
Author Bio:- Mayank S, is a Technical Writer at TechAhead Software, he spends his free time exploring mobile games. He is an avid writer and can be found on Google Plus (https://plus.google.com/u/0/105066040048337705064).