The online casino sector is a global industry, with an estimated net worth of around $46 billion– a figure that's expected to grow to over double this amount by 2024. Because of its size and the incredible number of providers that exist, both online and offline, it isn't only a rich industry, but a highly competitive one too.
The result is that technological innovations are constant. With rival providers continually trying to offer a better and more superior product than their competitors, there is a vast amount of investment in new types of tech, with everything from virtual reality to blockchain having received attention in recent years.
What's interesting is that some of these releases have the potential to revolutionise the casino sector as we know it, exponentially improving the overall player experience, while creating a level of interactivity and engagement that has never been seen before.
Here are three of the most noteworthy to look out for.
Virtual reality and augmented reality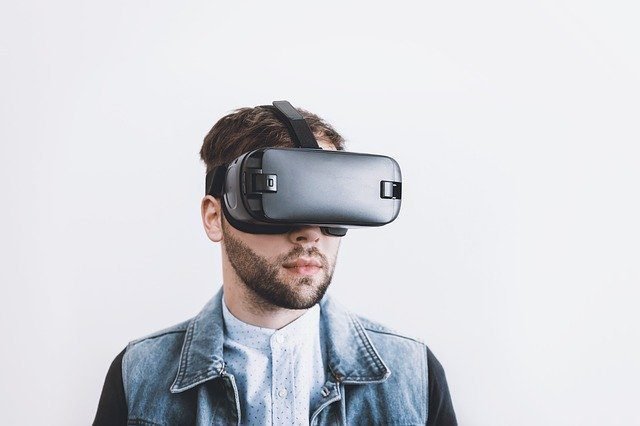 Source: Pixabay
If there's one overarching goal that the entire online casino industry is working towards, it's making the player experience feel authentic. Unlike their land-based counterparts, internet-based casinos cannot invite players in, so to speak, but they still want to maintain the aura of excitement and adrenaline that pervades in bricks-and-mortar gambling spaces.
Increasingly, they're turning to augmented and virtual reality to help them with this. This is a move that makes a lot of sense, for the entire purpose of such technologies is to create a more immersive user experience. As a result, this type of tech is increasingly being utilized to improve software and develop live gaming offerings. 
While this tech is still in its infancy, due to it requiring players to invest in hardware in order to enjoy the full AR/VR experience, there are nonetheless an increasing number of casinos who already rolling it out, with more expected to follow in their footsteps.
Folding phones
Slightly less dramatically, there is also a belief that the development of folding phones is likely to revolutionise the online player experience. That's because these devices offer a wider surface and better viewing angle than we're used to, which could vastly improve the way we play.
This is likely to have a particular impact due to the popularity of mobile gaming. Indeed, providers like Paddy Power have already taken steps to optimize their offerings for standard smartphones screens, to give players the potential to enjoy everything from bingo bonus offers to sports betting, casino games, and more on the go. We can see this, for example, in the design of their betting offers page, which is neatly set out to display one promotion below another when viewed on a mobile device as opposed to a laptop.    
Blockchain
Source: Pixabay
Blockchain, too, seems like it will increasingly come into play as the casino sector continues to evolve. Already, we can see it in use, with blockchain implementation in the gambling industry progressing at a rapid rate. 
A prime example of this is the way that it's been used to increase transparency and build trust between the house and the player, by allowing the casino to operate on the basis of 'smart contracts'. These allow money to be transferred immediately in the event of a win, while also ensuring that the entire process is made more easily visible.
Conclusion
With technology snowballing, and the casino industry keen to keep up, it seems inevitable that the sector will continue to develop apace, in order to create an even more authentic experience for players. We look forward to seeing not only how it progresses, but the unparalleled role that tech will have in this unprecedented evolution.