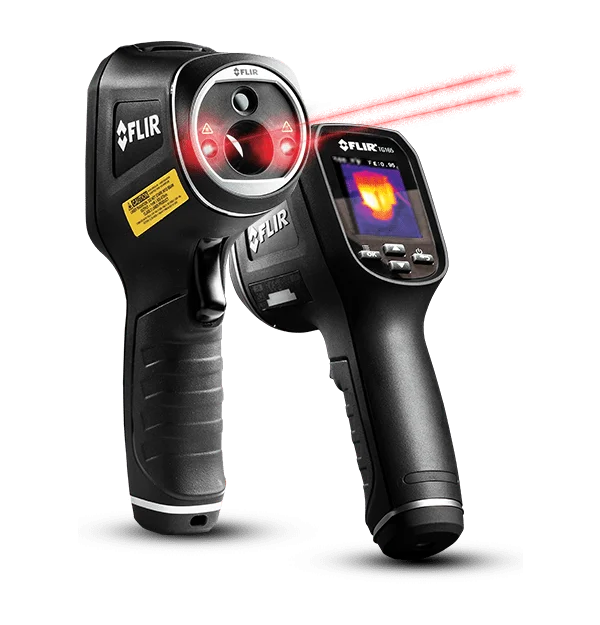 So you might be wondering, what is a spot thermal camera, anyway? The FLIR TG165 Thermal Imaging Camera is a spot thermal camera. It is a revolutionary infrared imager. It is brought to you exclusively from FLIR. The design is made complete with the unique Lepton micro thermal sensor. It provides true thermal imaging results to find hotspots faster than you could imagine. You can also record images and even download them via USB or micro-sd card quite easily. Doesn't this handheld device just sound awesome? To me, it certainly did. That's why I came to the conclusion that I should search for FLIR TG165 reviews.
Unfortunately, I was about to discover that there is not a lot of information out there about them. Sure, you can find tidbits here and there, but not any in-depth FLIR TG165 reviews.
This is why I made the decision to go ahead and purchase one for myself. My reasons for purchasing this camera maybe a little more conventional than yours would be though.
You see, I am an electrical engineer. This means that I design and develop electrical systems, solve problems, and test equipment. In order to do my job, I know that the FLIR TG165 could potentially help me in my investigations.
You may not know this, but, electrical engineers like myself use thermal cameras to perform things like an energy audit. With FLIR TG165, I can quickly identify problem circuits in a switchboard.
In this post, I intend to go over the FLIR TG165 in detail. I will outline the features and functions. More importantly, by the end of this article, you will even know where to purchase one of your own. I don't want to leave you in suspense any longer, so let's get started!
The Key Features of the FLIR TG165
Basically, thermal imaging cameras are gadgets that convert thermal energy (heat) into visible light in order to evaluate a particular object or scene. The image formed is called a thermogram. It then goes through analysis by a process known as thermography. For this reason, they use images from thermal cameras in things such as news coverage. This is due to the fact that thermal vision is pretty damn impressive.
The key features of the FLIR TG165 camera are impeccable. And you typically won't locate them on other FLIR TG165 reviews.
The FLIR TG165 possesses a true thermal imager. It is 80 x 60, which is equivalent to 4,800 pixels. This is important because an electrical engineer is only as good as the testing equipment they own!
The Benefits of the FLIR TG165
I realize now after being a proud owner of my FLIR TG165, that this camera possesses all the main features I need for my ongoing investigations into the houses or businesses that I am on call to check out. You simply point and shoot to view thermal changes and use the trigger to save images to review them later.
With FLIR TG165, the temperature range is anywhere between 25* C to 380* C (13*F to 716*F). Because of this, I was able to detect the thermal activity that I would not even realize was there if I was using other equipment.
FLIR TG165 will also show you what's hot and where to aim the device. It also has a wide range of 50* x 38.6* field of view. The sharp, crystal clear view allows for a better view no matter what you use it for. It also has a 24:1 spot size ratio for safer distance measuring. What's more, is that it's easy to understand and operate without any special training. Furthermore, it allows you to download images quickly over USB or even from a removable SD card. (This is particularly important with my job because I must keep an ongoing record of my findings for the customer.) The FLIR TG165 is helping me in so many ways because I can check for electrical defects on the print circuit boards (PCB). I can also detect which circuit boards are using the most power.
FLIR actually backs this product with a 2-10 year warranty. What's more, they also compress and are durable enough to simply keep in your pocketbook or even easily put in your toolbag.
The Functions of FLIR TG165
As I stated before, the FLIR TG165 is equipped with the exclusive Lepton micro thermal sensor. It allows you to see the heat so you can know where to accurately measure it. This means that you can easily find unseen hot and cold spots which will allow for instant troubleshooting. You can also store the images as well as the data to show customers and include them in your own reports.
Of all the FLIR TG165 reviews out there, not one mentions the many uses of FLIR TG165. Without a doubt, I knew I must cover some of them here. After all, this device has many uses. It's simply not just for electrical engineers like myself. Although, it packs a powerful punch at that.
One main use would be for preventative maintenance. These would be things such as mechanical safety checks. Another interesting use would be for disease control. They can actually check people for an elevation in their body temperature. This would be valid for things like COVID-19.
Interestingly, military and defense applications also use this technology. They use it in a wide range of military hardware including aerial drones. Initially, military applications are what paved the way for much of the research and development into this type of technology.
There are so many more possible uses with FLIR TG165, we don't have time to list them all here.
Where to Get Your Own FLIR TG165
Truly, I can't tell you how innovative this product has been to my line of work, because it's completely incredible! But as I said before, I know the other FLIR TG165 reviews, just don't cut it.
From this FLIR TG165- Thermal Imaging Camera Review, I hope I have piqued your interest in this amazing device.
When looking to get one, I suggest the company Better1.com. They curate, test everything, and make it easy to get your order in a timely manner. So what are you waiting for? Get your FLIR TG165 today!