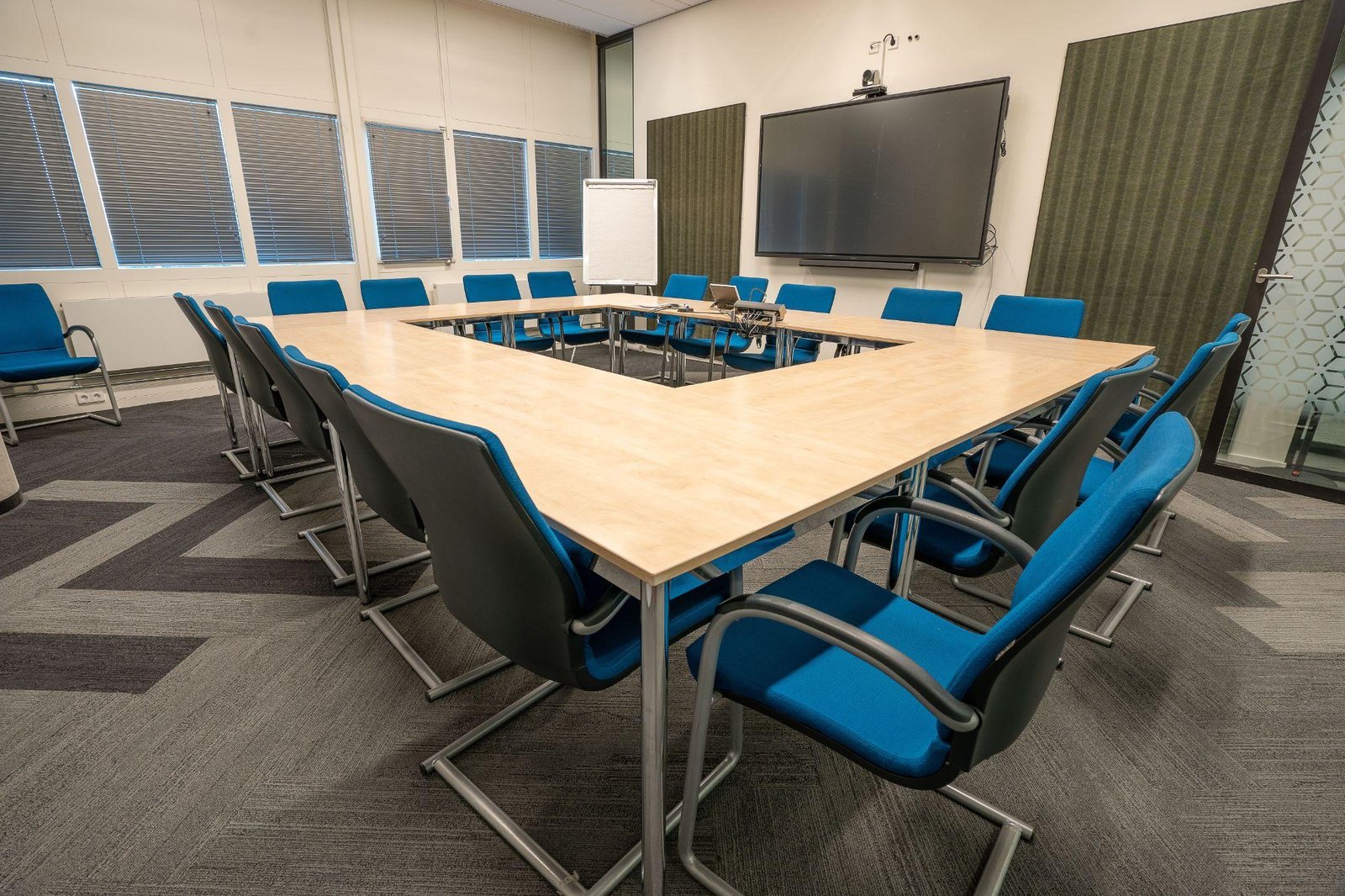 Not so long ago, people were complaining that meetings were taking up too much of their day, wasting time, and causing inefficiency and stress. Then hybrid working arrived – and the conference room took on a whole new significance.
Now that every day in the office needs to 'earn the commute', business owners, managers, and professionals are looking at those meeting rooms in a whole new light.
Why? Simple. Conference rooms, used in the right way, are an incredibly valuable asset for any business, big or small.
Whether you're a small start-up or a large corporation, having well-equipped and strategically designed conference rooms can significantly impact your business operations.
But in the hard-to-organize hybrid working world, making the best use of these spaces benefits from deploying a conference booking system. This enables employees to locate and reserve the room or rooms (even in multiple locations) that suit their purposes, using a mobile conference room booking app.
In hybrid working environments, conference rooms supported by scheduling technology provide 4 vital functions:
1. Collaboration and networking space
2. Somewhere to hold face-to-face events and get-togethers for remote workers
3. A great place to meet guests
4. Healthy spaces for decision-making.
1. Collaboration and networking space
Conference rooms provide a dedicated space away from distractions where teams can come together for meetings, discussions, and brainstorming sessions. Having a designated area for these activities helps create a healthy, focused, and productive environment conducive to collaboration and effective communication.
Industry champion Luis De Souza of NFS Technology says: "Having a dedicated space for meetings helps improve communication and enables teams to stay focused, resulting in more effective collaboration."
2. Somewhere to hold face-to-face events and get-togethers for remote workers
While remote communications are now widely used and accepted, face-to-face interactions are also essential for building strong relationships, resolving conflicts, and fostering trust among team members.
Well-designed conference rooms supported by easy-to-use conference booking software offer a great setting for in-person meetings, enabling people to come together and engage in ways that include reading non-verbal cues. This can help bind teams together and establish personal connections that may be lacking in virtual interactions.
Large conference rooms are also ideal for conducting presentations, training sessions, and workshops. With ample space and AV capabilities, you can deliver impactful presentations, train employees, and disseminate important information in a structured and organized manner.
Luis says: "Now that many companies are committed to hybrid working, some are finding their space needs have changed and continue to evolve.
"Meeting rooms are being repurposed – for instance, many organizations are using former board rooms that previously stood empty for most of the week as shared collaboration spaces for some of the time.
"Others are actually renting out their larger rooms to other organizations for events, and conference room booking software is extremely helpful in this situation.
"A thoughtful approach to space utilization, supported by conference room management software, is a great way to get the best value out of your real estate, which continues to be a major cost for businesses."
3. A great place to meet guests
Conference rooms remain impressive spaces to host company clients, business partners, or potential investors.
Luis says: "The ambiance, professionalism, and well-equipped facilities of a conference room can create a positive first impression and enhance your business's credibility and reputation.
"A well-designed conference room with modern amenities demonstrates professionalism, instils confidence in clients, and helps leave a lasting positive impression." The best conference room management software integrates with visitor-friendly technologies such as wayfinding panels and visitor management software for easy check-in and out.
4. Healthy spaces for decision-making
Creating a seamless employee experience is now a major priority for most organizations, who realize that providing an environment where wellness can thrive promotes happy workers and talent retention.
Using a conference room reservation system, integrated with other important technologies such as Outlook and meeting room display panels, provides managers and staff with space
where they can hold private or confidential conversations, and where they can focus on making important decisions without distraction.
Conclusion
It's not hard to see why conference rooms are essential for businesses of all sizes. Managed efficiently with the help of conference room booking software, they provide enormously valuable spaces for collaboration, communication, and decision-making – and when they are equipped with the right technologies, they foster professionalism, and enable the sort of efficient meeting that promotes a good employee experience.
They serve as impressive venues for hosting clients and conducting presentations, ensuring a positive brand image, and also offering privacy and confidentiality for sensitive discussions. Perhaps most importantly of all, they support effortless collaboration in the NWOW (New Way of Working).
To maximize the potential of conference rooms in your business, consider implementing a conference room booking system and integrating AV technologies that align with your specific needs and objectives. Your investment will create an environment that promotes creativity, teamwork, and success.
AUTHOR BIO:
Melvin Wallace is the Marketing Manager at MyRendezvous, a leading workplace management solutions provider. With a strong marketing background and a deep understanding of modern business needs, he is passionate about optimizing workplace experiences. By leveraging expertise in workplace technology, he develops effective marketing strategies, educates businesses on the benefits of workplace management systems, and shares valuable insights through blogs and articles.