If you're searching for business ideas for 2023, you've come to the right place. Starting your own firm is the best way to become your boss and gain financial stability. Additionally, you can start making income quickly if you have the right business idea.
But which are the best businesses to begin in 2023? To assist you in choosing the best business, Experlu has put together a list of 10 business ideas that will succeed in 2023.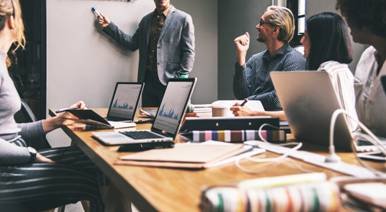 Credit: Freepik
Top 10 most successful businesses to start in 2023
The pandemic forced more and more companies into the digital world, and that's how businesses are operating today. Starting a digital marketing business can be your perfect business idea if you are good at social media and have a basic understanding of SEO.
Blogging
Starting your blog is a wonderful way to get into a new business and is a fun opportunity to write about topics you enjoy! You can start doing it as a side project in addition to your existing position and eventually switch to it when your blog becomes more established. Choose an excellent blog writing course so you can master the fundamentals of branding, SEO, and blogging.
Graphic design
All businesses, including corporations, small businesses, and sole proprietorships, require appealing advertising materials, but not everyone has an eye for what looks good.
Start a graphic design company to create flyers, digital ads, posters, and other visually appealing content if you have artistic skills and know how to structure content beautifully. Graphic designers should have knowledge and expertise in various editing software.
App development
If you are experienced and knowledgeable in technology, think about a career in app development. As more businesses understand the importance of mobile apps for interacting with customers and improving their operations, the need for app development increases, creating opportunities for developers to create and market new and creative apps to both consumers and businesses alike.
Pet grooming
Consider starting a pet grooming business if you love having pets around; grooming them doesn't seem difficult. To maintain flexibility, try providing home services. In this arrangement, you travel to pet owners' homes to groom their pets while receiving payment for your services.
Build and sell themes online
You can create a business by making and selling web page themes online if you have good programming skills and are remarkably brilliant at front-end development.
Based on your skill set, you can create themes for WordPress and sell them on different platforms. However, if you have a limited understanding of WordPress, you can create your theme using Bootstrap, HTML, CSS, and JS and then publish it online. Persistency and consistency will go a long way in turning this business idea into reality.
Owning a food truck
Food trucks come in various sizes and styles and offer many dishes and snacks. Bring your preferred cuisine with you so you can sell it to customers. Sure, you'll be working, but you'll be doing it in a field you're enthusiastic about with an opportunity to meet others who share your interests.
Event catering
Are you passionate about the culinary arts? Event catering can be a great company idea for you. Whether for gatherings like weddings, parties, fundraisers, or family reunions, there is no shortage of individuals who need delectable food to serve their guests. Event catering could be a joyful and lucrative way to feed hungry guests if you have a passion for cooking or baking.
Accounting services
An accounting company requires controlling income and expenses, handling payrolls, and planning tax returns for corporate customers. If you are skilled in bookkeeping or have experience with accounting, starting a small business or working as a startup accountant can be the ideal option.
Virtual Assistant
The virtual assistant business provides services like verifying and responding to emails, organizing to-do lists, and updating schedules and timetables for your clients. One can start this home-based company with a computer, internet connection, and phone.
Final thoughts
Starting a business in 2023 can be very profitable if you pick the right industry. It takes effort, but with the right resources and instructions, your business will be functional in no time. To ensure success in any industry, conducting in-depth research and evaluation is crucial to find business opportunities that align with your skills, interests, and resources. Additionally, having a well-crafted business plan, assembling a competent team, and remaining adaptable to changes will be vital for success in any industry.
Read Also 7 Business Benefits of Choosing a Headless CMS Platform