One of the main aspects of an e-commerce website is to get as many conversions down the hole as possible. At times, nudging customers into the conversion funnel is no less than a marketer's nightmare. To counter this effect, a good landing page can be a key conversion vehicle for your website. It gives the first impression about your business, while its main goal is to capture leads and generate sales.
Optimizing a landing page is all about organizing every vital element in order to maximize the percentage of visitors and complete your desired goal. Optimization, however, is easier said than done. It requires multiple testing to create a page as per the user's motivation, desires, and search queries.
What is a Landing page and why use an E-commerce Landing Page?
A landing page is often the main destination of organic visitors as well as paid online marketing campaigns, which serves as a primary visual introduction for your company. Visitors can come to your landing page through many channels like Google search, social media, paid marketing, or any referral websites by clicking call-to-action buttons.
According to Hubspot, more landing pages means more opportunity of sales, conversions, and an improved ROI. Generally, e-commerce websites have a large number of pages so if you can create thousands of landing pages, then the likelihood of more sales and conversions will increase drastically.
Here are some most important elements of your landing page that can make or break your sales:
At the outset, to get better results for your website, every page from home to shopping cart must be optimized. Also, don't forget to use A/B testing for your landing pages.
High-Quality Images for Every Product:
An online storefront is all about providing a visual treat to your customers. Since people can't touch and feel the products, they at least want to see their (products') real photos before making any purchase. You need to put high-quality images with multiple angle view and zooming options. It will surely change the perception of visitors towards your brand, which will help them make a quick decision.
According to a study, bigger product images enhance the conversion rate, improve online sales, and reduce bounce rate. Optimize product images with relevant names and alt tags so that search crawlers can index your webpage. For search engines, you can create an XML sitemap for images.
For example, iCustomLabel is using a multiple angle view with a zoom function for its product images. As you can see, the product page has a clear white background that gives a professional touch to the images: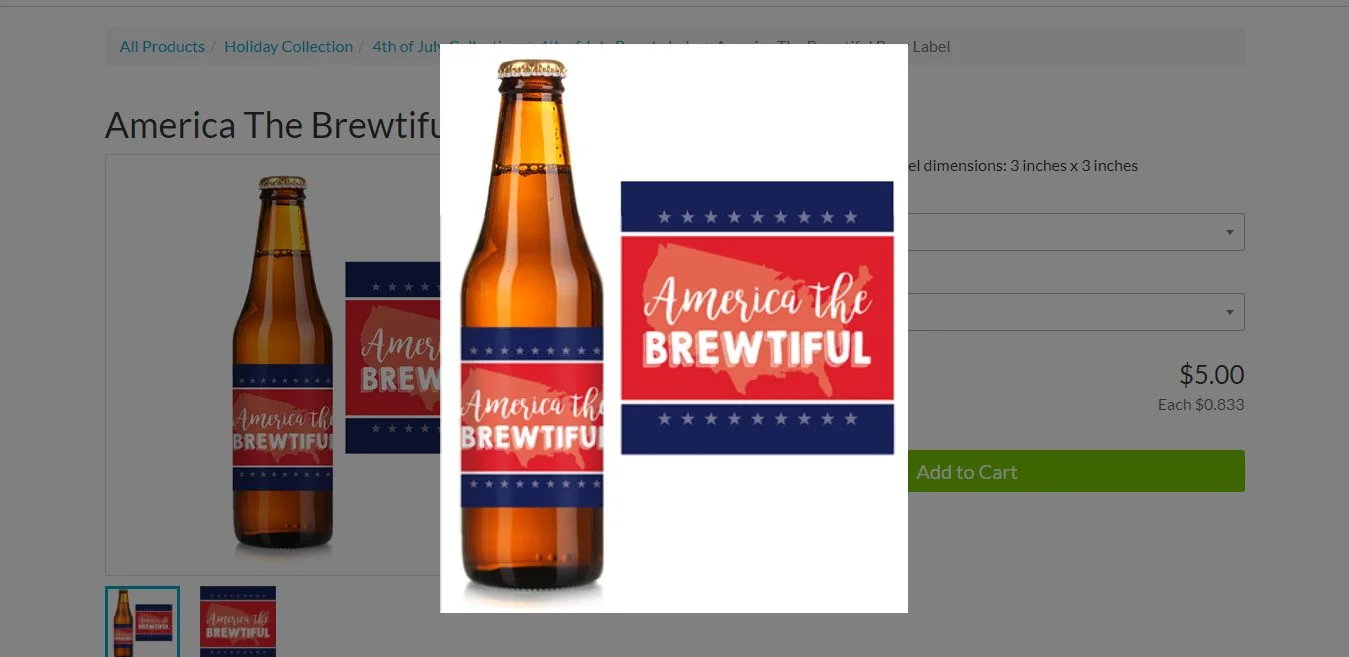 Clear Call to Action:
According to Marketo, 96% of visitors do not buy products that are not ready to buy when arriving at your eCommerce landing page. Part of the reason for this can be attributed to the lack of call-to-action (CTA). A clear CTA plays an important role in optimizing the landing pages for users. All call-to-action words like "buy now", "shop now", "add to cart" should be at the right place of your landing page. I would rather have you add CTAs on the right-hand side or below the product images. You can add multiple CTAs on your landing page. If you are optimizing your category or subcategory pages then you can use CTAs like "view product or item", "buy a product", "more details", "add to cart", etc.
For example, Flipkart has added the "add to cart" and "buy now" functions below the product images with big fonts that can be easily seen by visitors.
There are lots of e-commerce extensions that help customize product pages and configure custom options for any product. The main advantage of these extensions is they make the landing page user-friendly by adding custom pricing, inventory tracking, and advanced templates. You will no longer have to input every product option by hand — the templates fully automate the process.
Product Description, Delivery, shipping, availability and other information:
While optimizing product pages of your e-commerce store, the product descriptions, shipping details, and other required information must be included on each and every product page. Sometimes even a good amount of visitors don't necessarily translate into sales, you can still witness a higher bounce rate from your product pages. In that case, you must review product description and shipping details because missing out on these crucial elements can drastically lower your conversion rate. No one will make a purchase without proper product details so include product features on your product pages. Check out the user flow and bounce rate of the pages and create an effective content marketing strategy to improve user experience. You can use the Google analytics funnel to analyze the behavior of your users.
There are lots of features you can add to your product landing pages. For example, size and color options, area-wise delivery using pin code, free or paid shipping, delivery time, price, express delivery, cancellation, or return policy. All this information will greatly help your users to make purchasing decisions.
In the following example, you can see Flipkart product pages, they have mentioned price, delivery options, offers, discounts, product description very well on their pages.
Add Offers and Discounts:
Offers and discounts are some of the best ways to attract new users as well as your existing users. Every online shopper looks for discounts and special offers and wants to buy good products at the best prices. Adding offers and discounts on the product landing pages can improve your sales and conversions. For example, a campaign run by Amazon and Flipkart called "Big Billions Days" generates a huge amount of sales. That's because, in this sales drive, these companies offer huge discounts on virtually every product. In certain products, the discount value goes up to 75%. It's been noticed the consumers make most of this campaign and shop profusely. Similarly, you can throw lucrative offers on certain occasions like Christmas, Diwali, New Year, etc.
The other occasion for offering a valid discount is when some of your products have not been sold for a long time. There's no point in letting these products lying on the inventory shelves, for you need your stock up and running. So offer discounts and get rid of old stock as soon as possible. There's an old saying that's aptly applicable here – something is better than nothing.
You can add your offers and discounts on the landing pages in multiple ways like showing them with pop-ups, or next to products with a discounted prices, bank and other checkout payment discount options, and many more.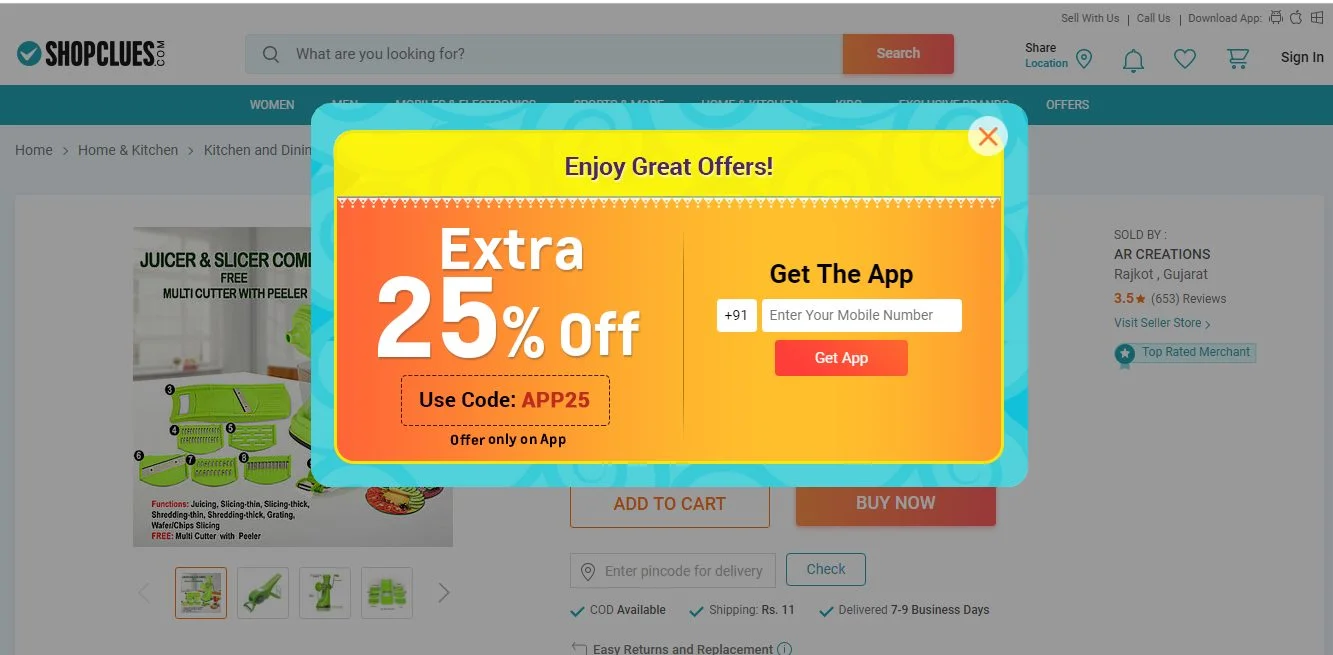 Build Trust by Adding Review and Ratings:
According to a survey, 90% of customers say buying decisions are influenced by online reviews. Product reviews and ratings are an essential part of your online store's branding. They help build trust and loyalty and typically describe what sets your products apart from others. Shoppers never purchase a product without gaining an insight as to how it's going to work for them. Try to include written as well as video testimonials as strong social proof.
Also adding reviews and ratings to Google structure data will give you a better search ranking. More reviews mean more exposure for your store, and hence more convinced will be that they are making the right decision. You can add reviews and ratings on the website with Schema markup language so that Google can easily identify your web page and rank well on the search.
Now how can you make your customers give you more positive reviews? There are many ways such as building trust, providing personalized experience, and creating e-commerce loyalty programs. That way, you can retain your customers and they will endorse your brand in the form of reviews and ratings.
Related and Recent Viewed Products:
The "Recently viewed" or "related products" option can be very helpful for your site. It greatly assists your customers in finding the items they've looked at while browsing your site. You need to let your users find what they are after quickly and let them buy it right away with no second thoughts. Incorporating the "recently viewed" option also allows visitors to see their browsing histories and get a better understanding of how to make further purchasing decisions with alternate options.
There is always a lingering possibility for users to get distracted on the way, which can kill your sale. So having related or recently viewed features will be your best solution to remind the customers about the last items they were about to purchase. This is a very useful feature to get back to those customers who would otherwise be lost. Finally, it increases the number of time users spends on your website.
Product Videos
Using product videos can take your e-commerce business to the next level. Videos are the best way to deliver product specifications as they are, which boosts your organic credibility and hence grows your conversion rates. Using videos, you can convey what your products can do and how they can be helpful for your customers.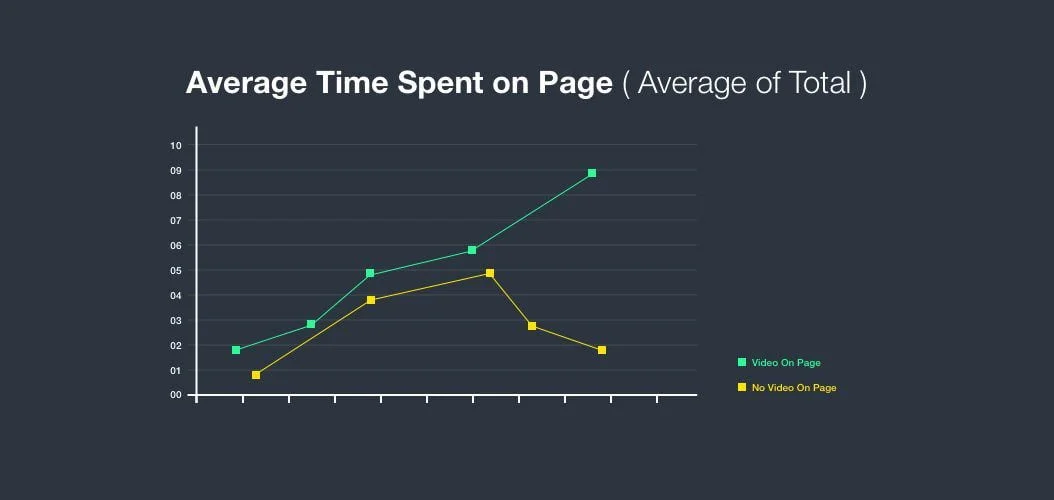 As per a survey, 70% of online consumers love to buy any product after watching product videos. Adding a product video on the product pages can skyrocket the chances of improving your sales. You can also attract new customers by offering useful content that helps fulfill their needs. So to create the most effective product videos, you need to tell a compelling story, keep it short, and make it people-oriented.
Responsive, Mobile Friendly and Fast Loading Time of Product Pages
The loading speed of your e-commerce landing page must not be more than 3 seconds. Slow speed can harm your website's ranking, increase bounce rate and decrease your conversion rates. Some of the latest surveys show that the loading speed of websites directly impacts the amount of traffic directed to your website. A slow website can frustrate your potential customers, and they might not visit again ever. Products pages are highly essential for conversion so they should be responsive and mobile-friendly. For that, your website should be secured with SSL and hosted on a dedicated hosting server. Hence, a fast-dedicated server can make a huge difference to the performance of your website.
The trend of shopping through mobile phones is growing with every passing day and Google also gives importance to mobile-friendly sites. So optimizing your landing pages for mobile users is highly recommended to maximize conversions and improve ROI.
You should read also about The Online Marketing Strategy of the Gambling Industry
You can track your website's download speed with multiple tools like Pingdom, Google page speed test, etc. I would personally recommend you to use Google testing tools because you can easily fix your website's speed issues and improve its overall performance. By fixing these issues you can effectively optimize your website for both mobile and desktop users.