Kaspersky Internet Security for Android is a FREE-to-download antivirus solution to help keep phones and tablets – that can be even more vulnerable than your computer – as well as your private information secure from online dangers. Our new App Lock feature also protects personal data from prying eyes.
• Improved in-app link checks for malware – designed to keep you safer than ever
• Even more languages – the app now comes in Arabic and Bulgarian
• Bug fixes and performance improvements – giving you a smoother experience
Product features
Background check — scans for viruses, spyware, and Trojans
Antivirus protection — acts as a virus cleaner & automatically blocks malware from phones & tablets
App Lock — lets you add a secret code to access your private messages, photos and more
Find my phone — tracks & finds your Android phone or tablet if it's lost or stolen
Anti-Theft — protects vulnerable personal information from prying eyes
Anti-Phishing — keeps your financial information secure while shopping & banking online
Call blocker — blacklists unwanted phone calls and text/spam messages
Web filter — filters out dangerous links & sites while surfing the Web
Kaspersky Internet Security for Android includes:
Background check
Our antivirus for Android scans downloaded apps for malware, spyware and other infections using a background check to give you profound virus protection & keep your devices secure against digital threats.
Antivirus protection
If the background check detects a malware, Kaspersky Internet Security for Android acts as a virus cleaner by blocking viruses and dangerous apps, links, and files.
App Lock
Our App Lock feature protects private communication & financials with a secret code to access confidential apps you have selected and hides sensitive data (messages, photos, files and more) on your device from wrong hands.*
Find my phone
Kaspersky Internet Security for Android helps you track and find your lost phone or tablet. You can turn on an alarm on the device remotely, lock and locate your phone, wipe personal information (messages, photos, and videos) and take a mugshot of the person using your device if it's stolen.
Vulnerable personal data, privacy protection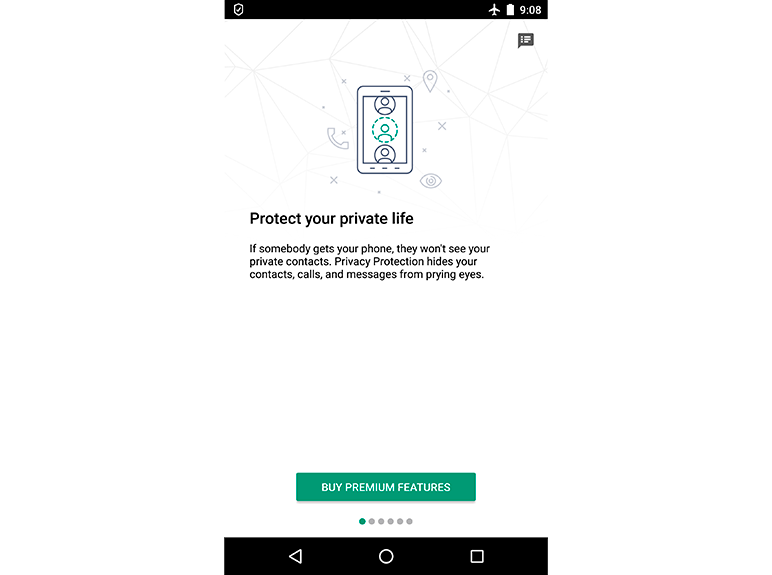 Our solution for Android helps protect the privacy and defend against identity theft. Hide your contacts, phone calls and text messages from prying eyes, protect vulnerable personal information and control what others can see if they pick up your device.*
Unwanted calls and SMS blocking
It includes a tool to blacklist unwanted calls, messages, and spam on Android devices. You can set filtering rules for incoming calls and SMS texts, add unsolicited contacts to a blacklist, block SMS texts with ads and detect spam from non-numeric numbers.
Blocking dangerous sites and links during Web surfing
Our powerful antivirus for Android protects your device from Internet threats while you are surfing the Web – by blocking phishing and other dangerous links.* That's why our virus cleaner grants you profound virus protection & helps keep your vulnerable financial data and privacy secure while making purchases online.
Support of Android Wear to control your security status
Using voice control you can activate the 'Find my phone' function, run a scan for viruses, spyware, malware, and other threats, get protection status updates.
* Functionality is available only in the Premium version.
This app uses the Device Administrator permission and Accessibility services.
Download on Playstore