The driving force behind the mobile experience's radical transformation is a mobile processor hidden beneath the surface. The Exynos 9 Series 9820, Samsung's latest mobile processor, is a nerve center designed to power innovative mobile devices. The Exynos 9820 is engineered to offer a next-level mobile experience through intelligent processing power, multi-gigabit internet speed, diverse multimedia features, and a host of other features.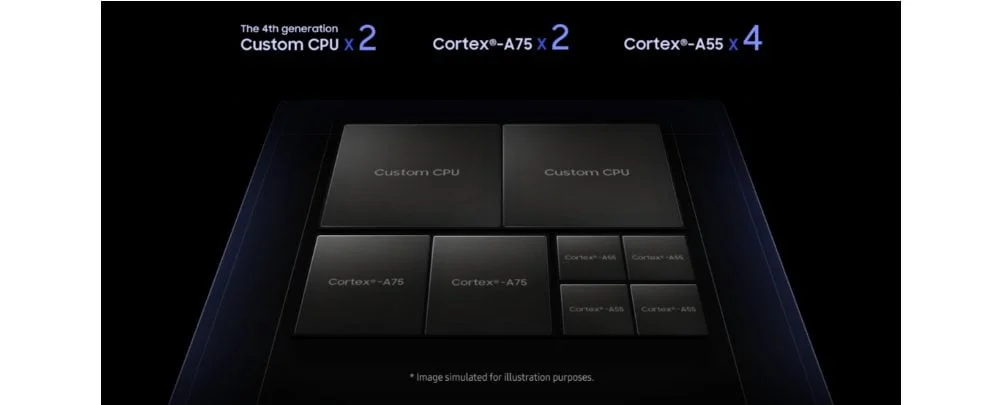 The Exynos 9820 has an integrated neural processing unit (NPU) to deliver deep learning capabilities whilst using less power. With the NPU, Exynos 9820 can perform AI-related functions seven times faster than its predecessor based on TOPS (Tera Operations Per Second).
This allows the processor to implement AI anywhere, anytime through its on-device artificial intelligence. With on-device AI, a mobile device can perform artificial intelligent activities with lower latency, better power efficiency, and stronger security than when utilizing the cloud. It enables the mobile device to offer new and improved artificial intelligence features such as personal assistant services, augmented reality and enhanced camera functions.
The Exynos 9820 integrates an LTE-Advanced Pro modem for lightning-fast mobile broadband speeds. To achieve fast downloads, seamless video streaming, and smooth online gameplay, the modem supports LTE category 20 with 8x carrier aggregation enabling downlink speed of up to 2.0Gbps.
The modem also enhances stability and speed even further through diverse advanced modem technologies including 4×4 Multiple-Input, Multiple-Output (MIMO), 256-QAM (Quadrature Amplitude Modulation), and Enhanced Licensed-Assisted Access (eLAA). Furthermore, the Exynos Modem 5100, Samsung's 5G cellular modem, can be paired with the Exynos 9820 to support the 5G network.
For an immersive gaming experience on the go, the Exynos 9820 comes with a high-performance Mali™-G76 MP12 graphic processing unit (GPU). Featuring wider execution engines – with double the number of lanes than its predecessor – alongside cutting-edge graphics compression techniques and advanced APIs support, the Exynos 9820 provides dramatic uplifts in both performance and efficiency for complex graphics. The Exynos 9820 offers up to 40 percent improvement in performance or 35 percent enhancement in power efficiency…
Samsung Global Newsroom