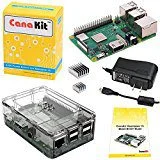 Includes Raspberry Pi 3 B+ (B plus) with 1.4 GHz 64-bit Quad-Core Processor and 1 GB RAM
CanaKit 2.5A USB Power Supply with Micro USB Cable and Noise Filter – Specially designed for the Raspberry Pi 3 B+ (UL Listed)
Dual-band 2.4GHz and 5GHz IEEE 802.11.b/g/n/ac wireless LAN, Enhanced Ethernet Capability
Premium Clear Case, Set of 2 Aluminum Heat Sinks
CanaKit Quick-Start Guide
IMPORTANT NOTE: If you see a rainbow splash screen with a lightning bolt symbol, this indicates you are NOT using B+ compatible software. NOOBS 2.7.0 or later is required for operation of the B+.
An exclusive kit from CanaKit that includes the fastest model of the Raspberry Pi family – the Raspberry Pi 3 Model B+ (B Plus)!
The Raspberry Pi 3 Model B+ is the latest production Raspberry Pi 3 featuring a 64-bit quad core processor running at 1.4 Ghz. It incorporates built-in WiFi and
List Price: $ 54.99