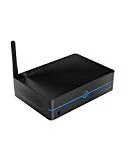 A versatile alternative to bulky computers. This mini pc is ideal for both at home and work application. Use your Byte3 as the perfect HTPC to stream Netflix, Hulu, YouTube and more
Get rid of your noisy tower computer and connect the Byte3 mini PC to your office monitor for a more spacious, modern and silent office setup
Built with (3) 3.0 ports and (1) type C port, as well as (1) HDMI port, (1) display port, and (1) serial port DB9. Internal ports included are: (1) M2 slot, (1) SATA port, and (1) Infrared receiver
The Byte3 has 5 USB ports – (1) 2.0 port, (3) 3.0 ports, and 1 type C port.
Integrated with Bluetooth 4.0 and an IR receiver. This mini PC includes a remote control for easy navigation
The Byte3 sports a Quad-Core Intel Apollo Lake J3455 Processor, and is offered with the option of 4GB of RAM for an accelerated computing experience and smoother multitab management. The Byte3 provides 32GB of built-in storage, yet includes a micro SD-card slot, accommodating as much as an additional 256GB to reduce restrictions on productivity. Users can connect the Byte3 to screen displays to convert them into fully operable computers through its Windows 10 Pro operating system.
List Price: $ 199.99