As all we know, Microsoft has released a new feature called Windows To Go in the Enterprise Edition of Windows 8/8.1 and Windows 10 to satisfy users' requirements. Users can create Windows 10/8 bootable USB easily with this fantastic function offered by Microsoft. But if you are not a user of Windows 10/8/8.1 Enterprise Edition, or for Windows 10 Home Edition user, Windows To Go is not available. In such circumstances, AOMEI Partition Assistant has a function "Make Bootable Media" to help you make Windows 10 bootable USB easily. It can be easily concluded that you can boot Windows 10 from USB flash drive successfully if you have made the USB flash drive bootable firstly via AOMEI Partition Assistant.
AOMEI Partition Assistant is Windows 10 partition manager who enjoys many other functions. For example, it can help you to manage disk effectively by resizing partition, allocating free space and merge partitions. It allows you to clone HDD to HDD or SSD so that you replace your disk without reinstalling operating systems and applications.
AOMEI Partition Assistant has been updated to 7.2 now. AOMEI Partition Assistant 7.2 mainly optimized user interface and fixed some random issues. I believe the new version will give you a different experience.
Free download AOMEI Partition Assistant 7.2:
http://www.aomeisoftware.com/download/pa/PAssist_Std.exe
How to make Windows 10 bootable USB with AOMEI Partition Assistant?
Step1. Insert a USB to your computer first, then open AOMEI Partition Assistant, choose "Make Bootable Media" in the left menu of its main interface.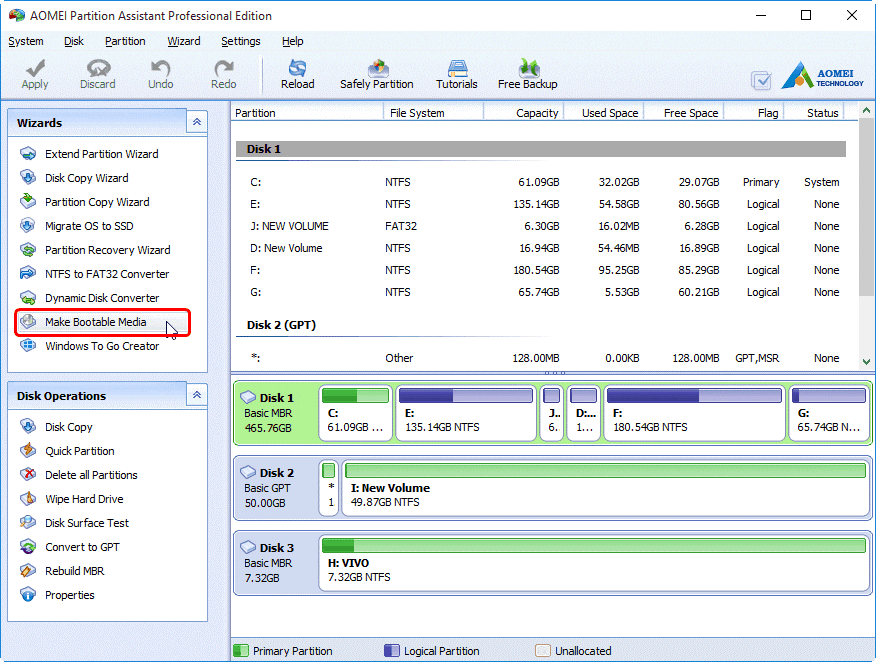 Step2. Now enter Make Bootable Media Wizard create WinPE bootable media.
Step3. In the next window. There are all three types for you to choose from: Burn to CD/DVD: make bootable cd windows 10, USB Boot Device: create bootable USB windows 10, Export ISO File: create Windows 10 ISO image file. You need to select the second one and click "Proceed" to start to make Windows 10 bootable USB. Exist Make Bootable CD Wizard when it finishes.
Conclusion
AOMEI Partition Assistant is also a free partition software that helps you to create other WinPE bootable media, such as Windows 7 bootable USB, bootable cd Windows 8/8.1, etc. If you're IT experts, company administrators or supercomputer enthusiasts, you may want to try AOMEI Partition Assistant Professional Edition. For company administrators, the AOMEI Partition Assistant Unlimited edition allows you to install it on unlimited computers within one company. Whether you need to make bootable media, windows to go merge, extend or create partitions AOMEI Partition Assistant can be a good assistant for you!