We all know that there are plenty of options for graphics editors to create your posters from predefined templates. Because templates are not only useful to stimulate your creativity with new ideas, but also allow you to work on a document already correctly configured to print without problems in the standard format of the poster. Are you still wondering which tool should you use to create posters or flyers easily and simply?
In this article, I will recommend a free and easy-to-use online tool named DesignCap to make posters and flyers in a few minutes. First of all, it has provided hundreds of templates, and thousands of resources to start with. Besides, it is very simple to use, thanks to the use of a drag-and-drop system to place the elements.
How to design a poster with DesignCap? As I mentioned above, DesignCap is an online tool to create posters in an extremely simple way without having to install anything. All you have to do is click the orange begin button on the homepage of DesignCap. Through a complete and intuitive graphic interface, you can start working immediately. You don't have to register or sign in and can still access different templates and various functions from which not to start from scratch.

• DesignCap allows users to choose a starting design among the dozens of possible variations. Many templates of posters with an attractive design to use as a starting point and maximum simplicity thanks to a drag and drop system to place the elements.
• You can upload personalized photos from a computer or Facebook. If you want, it is also possible to search for photos by typing in keywords from the Pixabay library it provides.
• After uploading photos, you can insert some text, such as a heading, subheading, or body text. Each text box can be loaded with a basic function of changing text fonts, color, size, alignment, layer, and so on. Anyway, you can create combinations of fonts, colors, and photos to associate all products of the poster itself.
• To further improve your poster, you can modify and insert clipart according to the content of your designs. You just need to select them from the wide range of clipart, including shapes, comics, emojis, embellishments, etc. Then you can change the flip, layer, color, position, and size of the clipart by dragging and dropping.
• DesignCap gives you the operation to modify the color palettes of the poster. You can find a range of solid colors, gradient colors, or some other fabrics textures. With a simple click, you can see if it most closely matches your style of the poster.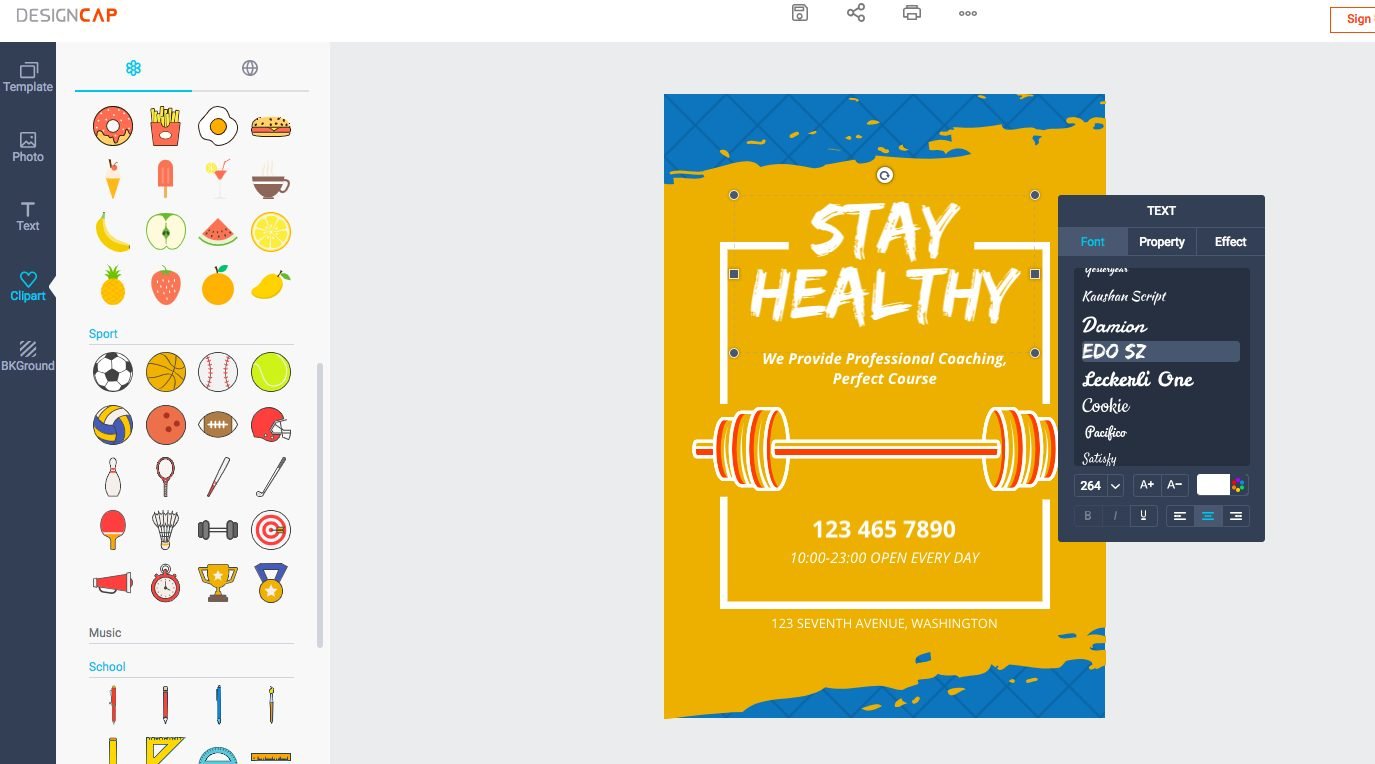 Once the design process is finished, you can download it in JPG, standard PNG, or transparent PNG format. Finally, it allows you to share the results directly on social media, such as Facebook, Twitter, and Pinterest.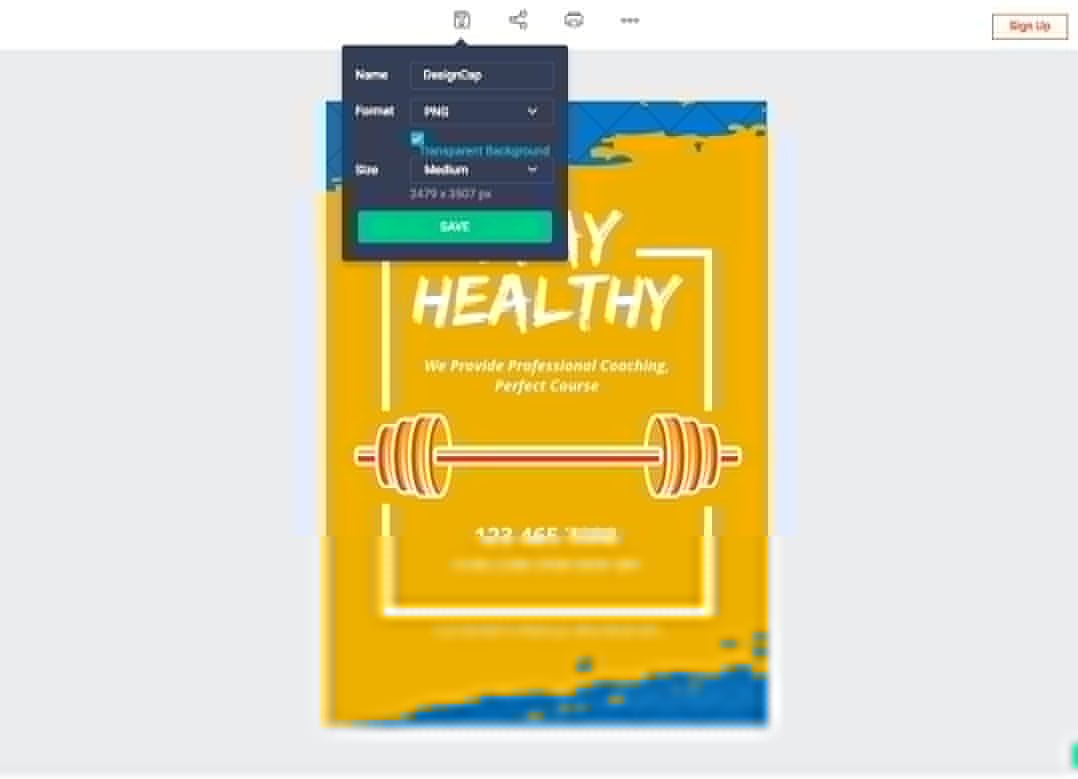 In conclusion, using DesignCap to create posters could be a good idea, especially if you have little time and not much experience, but want to get an attractive, professional poster. This simple online software of layout and graphic design has quickly imposed itself by being extremely intuitive and by being able to use it without having to install anything on the PC. Once access has been made free of charge, readymade templates are available with the dimensions to create all kinds of posters or flyers: movie posters, missing flyers, birthday posters, promotion flyers, etc. If you still are looking for a free and easy-to-use graphic editor, DesignCap is the correct tool you need.