Dell D Series LED-Lit Monitor 31.5″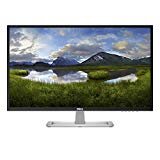 Get a great viewing experience at a superb value with the stylish Dell 32 Monitor.
This 31.5-inch monitor offers a great viewing experience, with Full HD 1920 x 1080 resolution, and vibrant colors across an ultra-wide 178 Degree/178 Degree viewing angle. Choose the Dell 32 Monitor which comes with efficient features that meet your computing needs.
Get a great viewing experience at a superb value with the stylish Dell 32 Monitor
This 31.5-inch monitor offers a great viewing experience, with Full HD 1920 x 1080 resolution, and vibrant colors across an ultra-wide 178°/178° viewing angle
Choose the Dell 32 Monitor which comes with efficient features that meet your computing needs
List Price: $ 199.99
Read Also Acer Aspire C24-865-ACi5NT AIO Desktop, 23.8″ Full HD, 8th Gen Intel Core i5-8250U, 12GB DDR4, 1TB HDD, 802.11ac WiFi, Wireless Keyboard and Mouse, Windows 10 Home