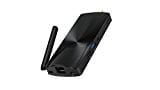 Azulle's access plus continues the legacy of being the worlds only computer Stick with an Ethernet port. Preloaded with a full version of Windows 10, 64-bit operating system.
Powered with a 64-bit Intel Quad Core Processor, the access plus provides a smooth and seamless experience toggling between various programs.
Equipped with 4GB of DDR3L RAM, 32 GB of onboard storage. Micro SDXC card Slot providing up to 128GB of storage makes it ideal for watching content and surfing the web.
Includes Dual band Wi-Fi, provides stable connections with higher speeds for browsing and streaming. Bluetooth 2.4 provides great connection to wireless peripherals.
Use the access plus as a HTPC and stream Netflix, Amazon plus and many others. Designed with an HDMI, you can connect the access plus to any HDMI ready TV, monitor or projector.
One-of-a-kind mini PC stick with Windows 10 Pro
With its small compact design, the Access Plus is small enough to fit in your pocket, making it the perfect computer for travel. Stream and browse virtually anywhere by connecting to any HDMI compatible TV, kiosk, projector or screen display. The Access Plus is a portable, fanless PC stick that makes doing everyday tasks on the computer a piece of cake with its pre-installed Windows 10 Pro.
Reduced Size, Better Quality
The new mini PC
List Price: $ 163.99