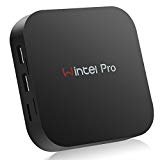 Intel Atom Processor : Quad-Core Intel Atom x5-Z8350 Processor. It's base operating frequency 1.44 GHz/s rising to a 1.92 GHz in burst mode
Windows 10 OS :Pre-installed with Windows 10 Home Edition(64bit) OS
Storage Expansion Option: 2GB of RAM, 32GB of Storage. You can expand the storage with a Micro SD card up to 128GB, a USB stick or a USB hard disk.
I/O Specifications: 1x USB 2.0,1x USB 3.0, 1x HDMI, Headphone/Mic Combo Interface, 1X Ethernet Port, 1X Ethernet Port etc.
Small But Powerful: 4K Ultra HD for visually home entertainment, perfect for home office, Internet surfing, watching movies, or simply browsing the web.
Tips to better use this mini pc:
1. Add a Micro SD card for saving files and documents.
2. Regularly delete the software distribution folder in windows directory to keep updates size use down. This folder is used for updates for windows.
3. Uninstall any program or app that isn't needed or used. Once done, there was enough space to update Windows.
Processor
CPU: Intel Atom x5-Z8350
Processor Base Frequency:1.44 GHz
Burst Frequency: 1.92 GHz
Cache: 2 MB
List Price: $ 95.99