The way we do business has significantly changed over the past decades. Something that was unimaginable ten or fifteen years ago now is a reality. Take mobile phones for example. Who would have guessed back then that these devices would become an integral part of our work life. From business calls to checking emails every minute or so, we do pretty much everything on smartphones these days.
Thanks to this and many other technological advancements our work behavior and habits have evolved. Nowadays, business professionals need to do everything in order to ensure that they stay ahead of the curve. This means that they need to get things done on the go, being productive in the office is not enough anymore.
Yet, most people have trouble doing any work if they're not at their office computer. Why? Probably because they lack the proper tools necessary to get things done. For example, imagine getting an email notification from your colleague with an important PDF contract while you're commuting to work or on a lunch break. You go over it and notice a mistake that needs to be taken care of before sending it over to the client. But how?
Here's where things get tricky. You're nowhere near your computer–how can you edit a PDF in such situations? Well, if you're using an iPhone (who isn't, right?) the solution is to use a PDF conversion mobile app such as Able2Extract.
Able2Extract PDF Converter is an easy to use PDF conversion app for iOS smartphones & tablets that can create and convert PDF files to formats that can be easily edited like MS Word for instance.
If the name Able2Extract sounds familiar, it is because the app is a smartphone version of the renowned desktop PDF solution called Able2Extract Professional developed by a Canadian company called Investintech.
Although the app is not as feature-rich as its desktop counterpart it certainly has some great features to offer. Here are some of them:
Easy to use
Fast and accurate conversion
Ability to create PDF files from other file formats
Ability to convert PDF files to Word, Excel, PowerPoint, Images & AutoCAD
Ability to convert scanned PDFs thanks to the built-in OCR engine
Ability to import and convert PDF files from your mobile device, email or other online storages (Dropbox, OneDrive…)
PDF to Word Conversion Guide
Now, let's see how to convert that PDF contract to an editable Word file with Able2Extract.
Of course, you need to download the app to your iOS device first. You can get it from the App Store here (one-time payment of $9.99).
Step 1
Locate the PDF file that is attached to your email, long press on it and choose to open it with the Able2Extract app.
Note: If you're opening it from another app like Dropbox, tap on the Share button and choose to open the PDF with Able2Extract.
Step 2
Now, the PDF will appear on the Able2Extract's file list. Tap on the file to continue.
Step 3
Click on the Convert To and choose the appropriate file format, in our case, MS Word and the conversion process will start.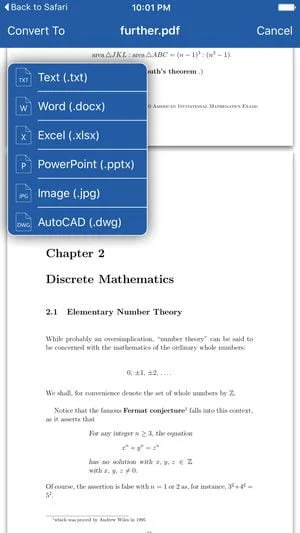 Able2Extract will notify you once the file has been converted. You can locate the newly created file in the Able2Extract file list.
If you want to send the file to another app and share it, tap the Share button and select the app you want to share the file with.
Read Also How To Edit Any PDF Using Your iPhone
Note: The same steps apply for any other conversion type.
Conclusion
Converting files quickly and efficiently on the go has always been a productivity–hampering barrier. Not anymore, thanks to Able2Extract PDF Converter app. Although it can't replace a full featured desktop software tool it can get the job done when you're on the go. It's fast, lightweight, simple to use and it's our go-to PDF converter app for iOS.