Father's Day is around the corner, and there may be too many products that will dazzle you. Now i will review Choetech Quick Charge 3.0, 6-Ports USB Charger with 2 Quick Charger 3.0 Ports. Maybe it is a good gift for Father's Day.
As we all know, Qualcomm Quick Charge 3.0 is the latest, fastest and most efficient USB charging technology in the world. It can up to 4X faster than standard chargers. Choetech 6 port Quick Charger has 2 Qualcomm fast charge ports and 4 regular ports. With smart charging tech allows you to charge your iPhone and iPad at full speed.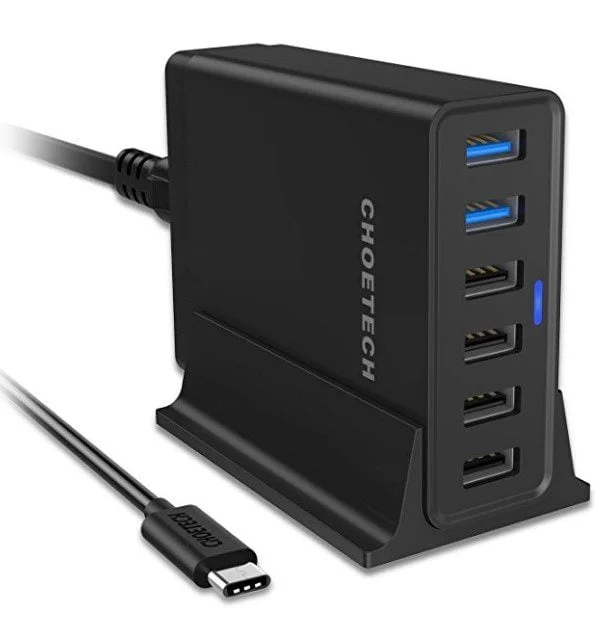 It backwards compatible with all versions of Qualcomm Quick Charge Technology (1.0, 2.0 & 3.0). It can intelligently identify your devices and offer the available fastest charging speed for 6x devices (Andriod or iPhone) at the same time at 10A total output.
6 port in one charger will save you more space. It allows you to plug everything in at once. For example: smartphones, tablets, bluetooth speakers, power banks and countless , ipad and more. You can avoid the embarrassment of a house full of chargers with this Choetech Charger.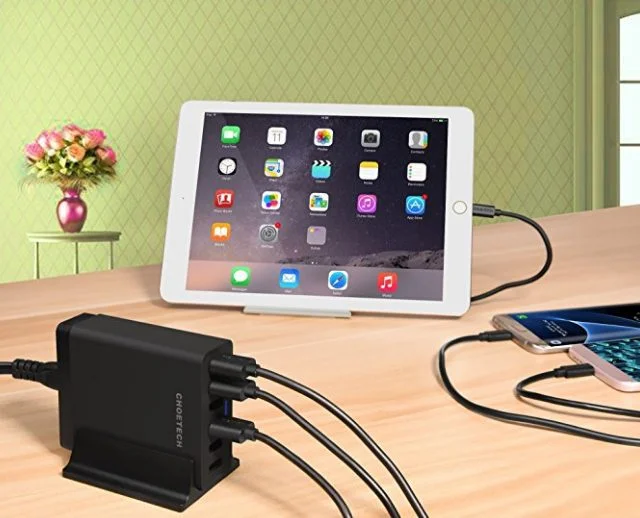 Choetech Quick Charge 3.0 feels great in the hand, it has that silky silicone soft touch feel and the build quality also feels great, sturdy and durable, the stand provides a good base for the charger to stand on — although it could use a heavier base.
Specification:
Input: AC 100-240V ;
Output: 50W ;
4*Smart Charging Port: 5V 2.4A(max) Per Port ;
2*Quick Charge 3.0 Port: 3.6V-5.5V 2.4A(max) , 5.6V-9V 2A(max) , 9.1V-12V 1.5A(max) ;
After placing an order, you will get:
1*CHOETECH 50W 6-Port USB Charger
1*5ft / 150cm Detachable Power Cord
1*Holder
1*USB A to C Cable(1m)
1*User Manual
Now you can buy it from Amazon at $26.99
Or visit Choetech Official Website: https://www.choetech.com/product/usb-charging-station-with-2-quick-charge-3.0-6port-us.html