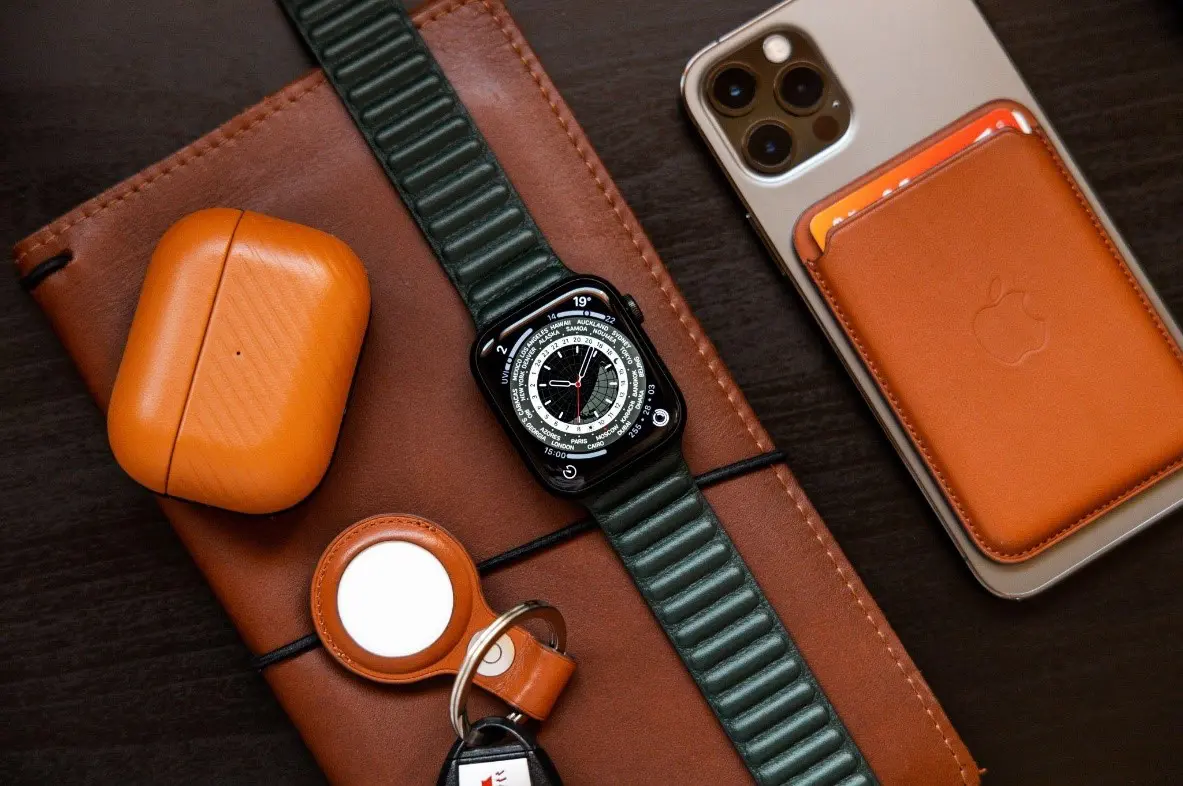 Imagine knowing your blood oxygen levels while you're going to work without lugging around extensive equipment. Awesome stuff, right? You don't have to picture this anymore because you can get this vital health information and so much more from an Apple watch.
Now that health is everyone's concern, this wearable technology is more important than ever. It's more than an accessory on the wrist; it's a vital tool in making sure you are in good shape. In fact, Apple CEO, Tim Cook, revealed that his company aims to make waves in the personal fitness sector. The tech giant wants to make the greatest contribution to health and wellness.
The Apple Watch hailed as one of the greatest inventions of 2014 by Time Magazine, is a trailblazer in the wearable technology market. Since its 2015 launch, it has managed to revolutionize the traditional wristwatch into an advanced and customizable timepiece that can connect, transact, and monitor one's health and fitness levels.
Now on its 7th series, the Apple Watch hasn't failed in the wow factor. Aside from its cutting-edge technology, Apple's health and fitness features make it stand out among the smartwatches in the market. Since its first foray into the wearable device industry, it has become a trailblazer.
Get to Know the Apple Watch
Behind the Apple Watch Series, 7's sleek design is a myriad of exciting features. If you're planning to buy one for a loved one or yourself, check out what's in store for you below:
For Health and Fitness
The app and impressive sensor in the Series 7 Apple Watch provides an on-demand reading of your blood oxygen level any time of the day.
The watch has an ECG app that takes a single-lead electrocardiogram to provide vital data for you and your doctor.
You can choose from dozens of workouts for your fitness levels, such as Pilates or Tai Chi. The larger display can clearly show your metrics and progress to get you pumped up to do your workout.
For Connection and Entertainment
Its cellular feature allows you to communicate via call or text even if you leave your phone at home. You can still see your important notifications and messages no matter where you are.
You can get unlimited access to the millions of music tracks and podcasts from Apple Music and Podcasts to accompany you.
For Business and Travel
The Wallet app allows you to store crucial digital information in one location. To make transactions such a breeze, you can keep your boarding passes, ID cards, tickets, and gift cards in your Apple Watch's storage.
Apple Watch Maps can help you navigate roads and streets whether you're walking, driving, or taking public transportation. It will tell you when it's time to make a turn without the need to look at your watch.
Aside from the practical applications mentioned, the Apple Watch also boasts exceptional charging time, a customizable and shareable face, and excellent craftsmanship.
Making the Most out of Your Apple Watch
Now that you have your hands on the latest Apple Watch, it's time to maximize its potential with these hacks:
1. Talk to Siri
Yes, the quintessential personal assistant everyone's grown to love is also accessible through your Apple Watch. There's good news for Series 3 and higher series users: you can now communicate with Siri!
Make a long press on the digital crown to enable Siri. Then you can start giving commands or asking questions once Siri appears. Series 7 users can make more requests such as word or phrase translations.
2. Find loved ones
Do you want to know where your kids, your friends, or any family member are? The Apple Watch's Find People app can help you track people who agreed to share their whereabouts with you.
All you have to do is to tap the name of the person you're looking for in the app. The watch will reveal a view of the address and a map of their location. You'll also get specific directions on how to get where they are and if they leave the spot.
3. Send messages hands-free
Wouldn't it be great if you could send a message to someone conveniently? Apple Watch makes it possible. You can dictate a message by going to the "Create Message" field, tapping the microphone icon, and saying your text. When you're done with your message, just hit send, and you can go on with what you're doing.
How to Make the Apple Ecosystem Work for You
What's great about the Apple Watch is that you can link it to your other Apple devices. You can create a smooth-sailing ecosystem of gadgets that fit your lifestyle.
View photos without your phone
If you're in a reunion, for example, and you'd want to share adorable pictures of our kids with a relative, you can do so without whipping out your phone. You can select the images you want to share through a synced album on your iPhone beforehand.
Then, when it's time to browse, open the Photos app to view all your synced photos. You can use the smartwatch's digital crown to zoom in or zoom out of the picture.
Get that much-needed sleep
Your Apple Watch can work with your iPhone to help you reach your sleep goals. You can create a bedtime routine and sleep schedule while your watch and phone track your progress.
The Apple Watch is the Timepiece of the Future
In the dizzying speed of today's world, you need a companion to keep you on track with your mental and physical health. An Apple Watch can provide you with all the metrics required to keep you healthy and productive. It allows you to do what you do best while reminding you to put your health at the forefront of your busy life.
Buying an Apple Watch is more than spending on a gadget or an accessory. It's investing in the most precious treasure you will ever have, your health and wellbeing.
Author: Garry Everrett
Garry Everrett is a Tech Geek who is a freelance writer by passion. Mostly, he writes about topics revolving around the latest gadget and technology, specializing in new or used Mac computers. In his free time, he likes to read sci-fi novels, and play golf.