7 Inch 2 DIN Car Stereo – Univeral Fitting, Android 7.1, HD Display, 4 Core CPU, 2GB RAM, GPS, Android Maps Support, Bluetooth
Universal 2-DIN Car Stereo
This universal 2 DIN car stereo system is compatible with many vehicles and straight forward to fit. Powered by Android 7.1.1 this in-car entertainment hub brings you movies, music, apps, and games. With Android Nougat in your car, you'll never be bored again.
Featuring a large 7-inch display that boasts 1024×600 HD resolutions this double DIN car media player brings great visuals. This high-quality display is great for viewing your route or entertaining your passengers with movies and games. Supporting RCA video and audio outputs you can hook it up to headrest monitors to keep everyone on board entertained throughout your journey. Ideal for distracting your kids on those long run outs or the school run. Additional ports let you connect a rear parking or backup camera and also support micro SD and USB media inputs.
With a powerful quad-core Rockchip CPU and 2GB of RAM as well as the Power VR G6110 GPU this Android car stereo is well endowed for playing media of every time. Having Bluetooth connectivity lets you sync your iOS or Android phone to the in-dash media player and enjoy hands-free calls and music streaming from your mobile device.
You might also like to read 10 4 inch car dvd player
In-Car Navigation System
Equipped with a state of the art GPS receiver and supporting Android maps this car GPS system will improve your driving experience. By guiding you to your destination via the most efficient route this car GPS system takes the stress our of driving and means you can keep your attention on the road rather than worrying about what turnoff you need. The voice navigation will give you timely reminders of every turn on your route so you can enjoy the journey without stressing.
Whether you're wanting a flashy 2 DIN car stereo to impress your friends or a large screen GPS for easier navigation this in-dash car media player has it all covered.
Read Also Wholesale Car DVD Players From China
General
DIN Size: 2
Bluetooth
Wi-Fi
GPS
Google Play
CAN BUS
FM, AM Radio
Steering wheel learning function
Main System-Android

OS: Android 7.1.1
CPU: Rockchip Px3 Quad-Core 1.6 GHZ
GPU: PowerVR G6110
RAM: 2GB
Internal Memory: 16GB
Wi-Fi
Google Play
CAN BUS
Bluetooth
GPS (Android only)
Receiver Module: SIRF III
Frequency: 1.6 GHz
C/A Code: 1.023 MHz
Signal Channels: 20
Tracking Sensitivity: 160dBm
Position Sensitivity: 3.0m CEP
Speed Rate: 0.1m/s
Data Update Rate: 1Hz
Recapture Time: Average 0.1s
Hot Start Up Time: Average 2s
Warm Start Up Time: Average 32s
Cold Start Up Time: Average 32s
Maximum Position Altitude: 18000M
Maximum Speed Rate: 515m/s
Built-in Antenna Type: External Power Source Porcelain Antenna
Built-in Antenna Voltage: 3.3V +/- 5%
Built-in Antenna Current: 15mA
Built-in Antenna Gain: 27dB
Interface: Touch screen
GUI Interface: 3D Type
Voice: YES
Maps: AndroidMap
Internet information
Display
Screen: 7 Inch TFT LCD
Resolution: 1024×600 RGB
Touch Screen: Support Capacitive
Multi-touch: Support 5 Point
Image Brightness: Adjustable
Audio Information
Max Audio Output: 45W x 4
AM/FM Radio Tuner Information
AM Frequency Range: 522 to 1620KHz (Worldwide) Increment: 0.05MHz
FM Tuning Range: 87.5 to 108.0MHz (Worldwide) Increment: 9 KHz
RDS System
Radio Regions: China, Europe, Orit, Russia, America1, America2, Japan, Aust
Bluetooth
Pair With Mobile Phone – Then Use Touch Screen Interface
Dial, Answer, Stop Call
Volume Control
Touch Screen Keypad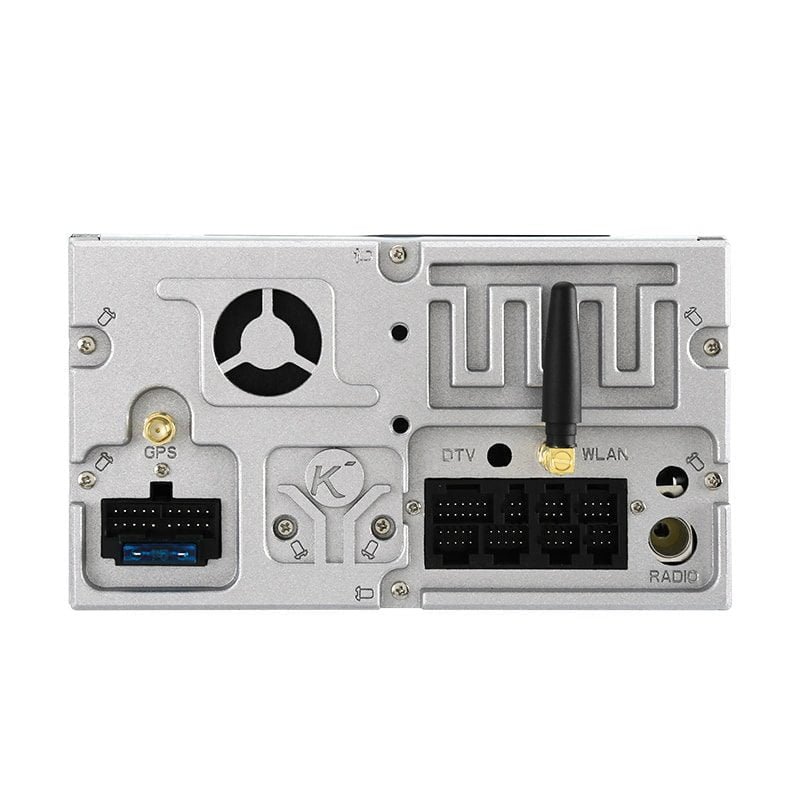 Ports
Radio-ANT
GPS antenna input
2x USB (via USB leads )
Micro SD card Slot: Up to 64GB
2x VIDEO OUT
CAM IN
VIDEO IN
Speaker RR out + and –
Speaker RL out + and –
Speaker FR out + and –
Speaker FL out + and –
Subwoofer
AUX IN L
AUX IN R
Languages
Afrikaans, Bahasa Indonesia, Bahasa Melayu, German, English, Spanish, Filipino, French, Italian, Magyar, Dutch, Portugues (Brasil), Portugues (Portugal), Vietnamese, Turkish, Greek, Russian, Hebrew, Arab, Thai, Korean, Chinese (Simplified), Chinese (Traditional), Japanese
Media Formats
Video: MPEG-1/2/4, H264, RMVB, DivX …all Android videos, network mediaplaying, 1080P video decoding
Audio: MP3, WMA, WAV, AC3, OGG, FLAC etc, and network audio playing
Graphic: JPEG, BMP, PNG,TIFF
(Android device can download various media players and codec's for supported format options)
Dimensions
Main Product Dimensions: 177x101x188 mm (L x W x D)
Main Product Weight: 1.234g