Xiaomi Mi Robot Vacuum Cleaner

Xiaomi Mi Robot Vacuum Cleaner – Laser Distance Sensor, NIDEC Brushless Motor, 1800 Pa, 5200mAh, App Control, Auto-Adjust Brush
The Mi Robot Vacuum Cleaner from Xiaomi is an intelligent home cleaning device that will efficiently clean your home so you don't have to. A brushless motor from the No.1 comprehensive motor manufacturer NIDEC delivers a massive 1,800 Pa of suction so it easily outperforms all of it rivals.
A Laser distance sensor is used to scan the surroundings of the robot at up to 1800 times per second mapping out a 360-degree picture of the interior of your home. This is combined with a number of other sensors such as the ultrasonic radar sensor, cliff sensor, gyroscope, and accelerometer. With all this data the Mi Robot vacuum cleaner uses its impressive Simultaneous Localization and Mapping (SLAM) algorithm to map the optimal cleaning path around a room avoiding, obstacles, and hazards such as stairs and making sure it leaves no marks behind.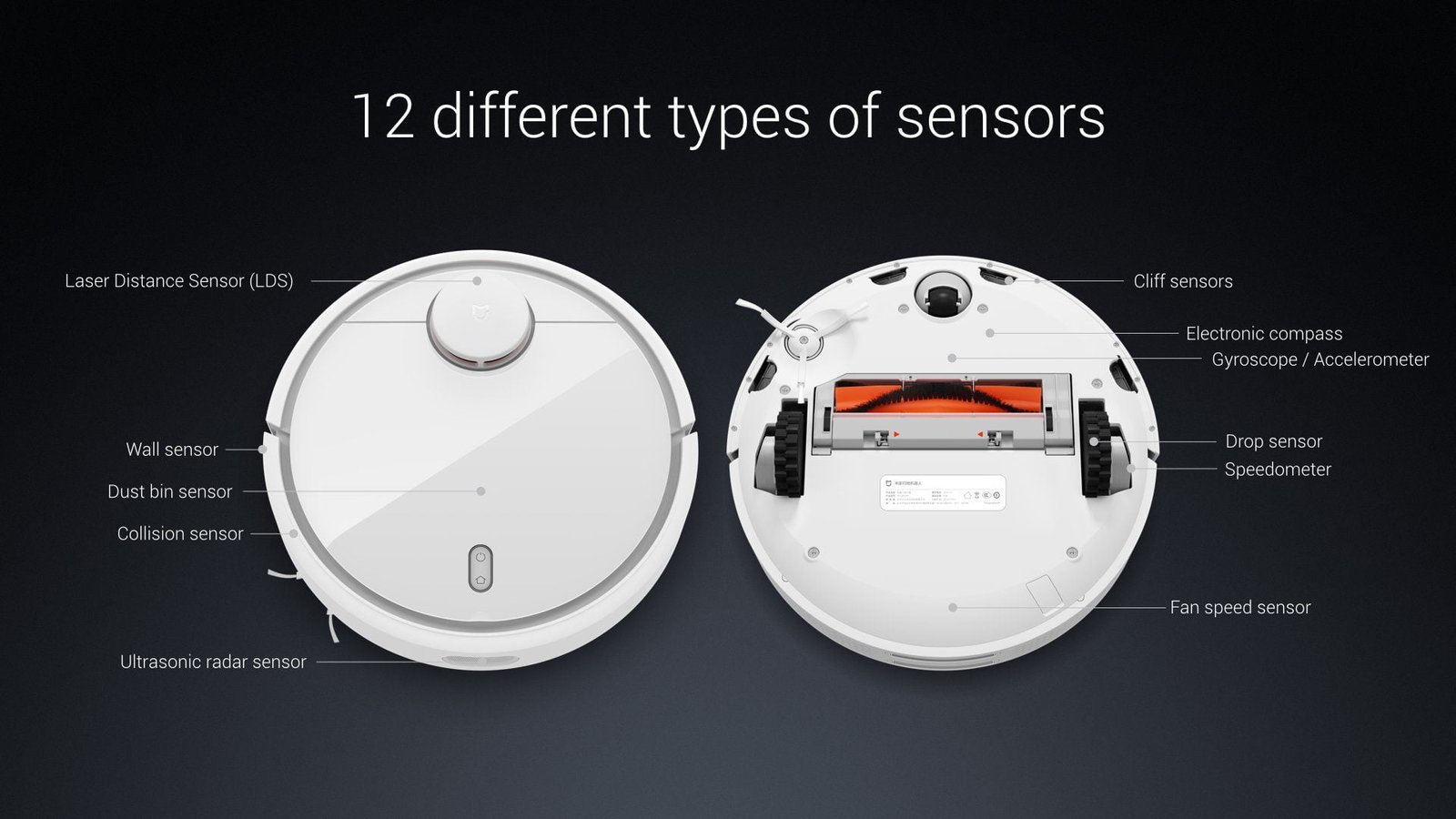 This elegant and smart vacuum cleaner can be used with the Mi Home App (downloadable from QR code). This lets you remotely control the robot, change the cleaning modes and schedules as well as keep track of its progress so you can set it to work when you are out.
The main brush on this vacuum cleaner automatically adjusts its height allowing it to create a better contact with your floor and remove dirt on uneven surfaces. This automated vacuum cleaner is the perfect home helper and takes care of the chore of sweeping without any input required. A 5200mAh battery brings up to 2.5 hours of cleaning and when the power reaches less than 20% the Mi Robot cleaner will automatically return to its charging dock and recharge, once is charge reaches 80% it will head off again to get on with any unfinished cleaning work.
General
Battery: 14.4V / 5200mAh lithium battery
Wireless connection: Wi-Fi
Rated Voltage: 14.4V
Rated Power: 55W
Charging Dock
Voltage input: 100 – 240V
Output: 20V 2.2A
Frequency: 50 / 60Hz
Suction Rating: 1,800 Pa
Dust Bin: 0.42L
Usage Time: up to 2.5 hours
Schedule Cleaning
Recharge & Resume
Sensors: Laser Distance Sensor, Ultrasonic radar sensor, Cliff sensor, Gyroscope, Accelerometer
Main brush auto-adjusts height
Simultaneous Localization and Mapping (SLAM)
App Control: "Mi Home"
Dimensions
Main Product Dimensions: 342x 342 x 90 mm (L x W x D)
Main Product Weight: 3793g
Xiaomi Mi Robot Vacuum Cleaner – Laser Distance Sensor, NIDEC Brushless Motor, 1800 Pa, 5200mAh, App Control, Auto-Adjust Brush – $265.50
from: Chinavasion Wholesale Electronics & Gadgets