The industry of Fantasy Cricket has been gearing up exponentially, owing to the advancement in technology. This dramatic increase in the number of Fantasy Cricket players has resulted in a massive demand for Fantasy Cricket apps. Besides, several entrepreneurs are coming forward to invest in Fantasy Cricket App Development.
Fantasy Cricket App Development – Overview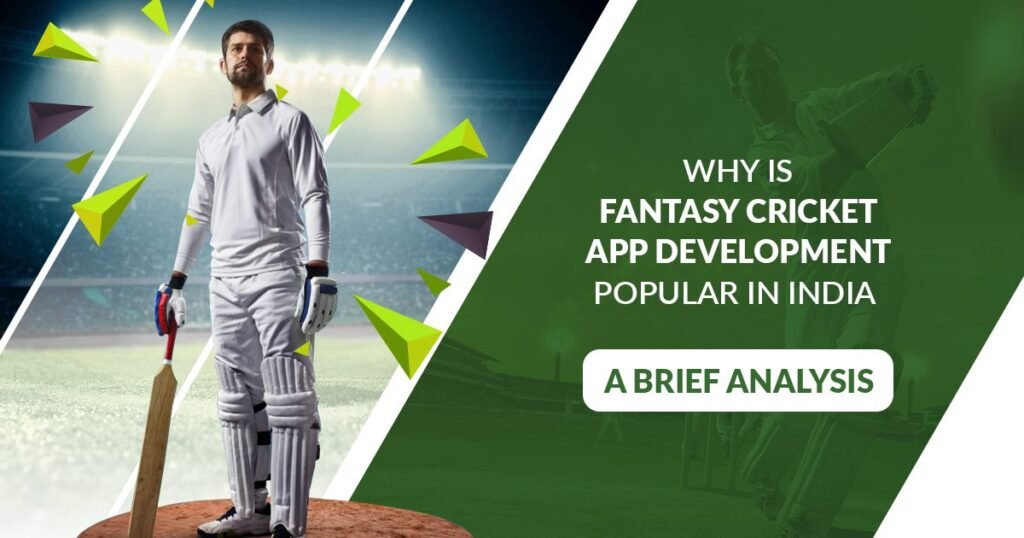 Before analyzing why Fantasy Cricket is popular, it is necessary to know what it is all about.
Fantasy Cricket is a type of fantasy sport that allows Cricket enthusiasts to make predictions and win money out of their instincts and Cricket knowledge. One need not be an expert Cricket player in real life to play Fantasy Cricket. However, he/she must have a strong understanding of Cricket to maximize the probability of success.
We all know that, in Cricket, a team of 11 players compete against another team of 11 players, under specific conditions. The same applies to Fantasy Cricket as well. But in the case of Fantasy Cricket, you will have to choose 11 players from the overall 22 players. The players you selected can be from either team. Based on the performance of these players in the real-life tournaments, points are awarded to the Fantasy Cricket players. These points determine success or failure.
Factors Influencing The Popularity Of A Fantasy Cricket App
For any fantasy sports app to gain popularity among users, it should fulfill the following criteria.
It should be innovative.
It should be cross-platform compatible.
It should be integrated with multiple secure payment gateways so as to ensure fast and safe transactions.
Apart from all these, the sport should be popular in real life for it to be well received in fantasy. This is because ardent fans and followers will be exhilarated by the concept of fantasy sports and will try the app out of curiosity.
However, there is yet another critical factor that influences the popularity of fantasy sports app. It is nothing but the features. So make sure that the app is rich in features, as people would obviously go for those apps that come with maximum benefits. (Read further to know some unique features that help in skyrocketing the popularity of your Fantasy Cricket App in no time!)
How should a Fantasy Cricket App be developed to become popular?
Well, there are several aspects to bear in mind while developing a Fantasy Cricket App. The most prominent ones are discussed below.
Home Screen
Every time the user opens an app, it is the home screen that they see first. So, it is vital to design the home screen in such a way that it is self-explanatory and attractive.
Contest screen
Users need to know about the contests that are going on for them to participate and win. So, the contest screen must have all the essential information about the contests, including the winning amount, entry fee, etc.
Live scores
Users should be able to monitor the real-time scores. So, the app should notify users on live scores through SMS or push notifications.
Referral bonus
You should first be clear of the fact that in order to expand your business, you need to expand your user base. This increases the popularity level of your business and also the revenue being generated. So, make sure to give referral bonuses or rewards for successful referrals. For those who do not know what a successful referral is, when you refer the app to someone and they install it, that referral is considered to be successful. This encourages users to refer your app to someone who might like it.
Dashboards for better management
This is a must-have feature for the benefit of the users as well as the admins. This feature allows them to manage the matches as well as the players. Users should also be able to create new tournaments or join the existing ones.
Fantasy Cricket Software Development
To achieve a better gaming experience, it is essential to incorporate cutting-edge technologies. Moreover, the software behind the app should be snag-free. This helps in experiencing lag-free gaming. So, pay extra attention while developing and testing the software that best suits your requirements. Direct your focus towards offering ease of customization and accessibility.
Tax management
Effective management of taxes is necessary. So, the app should allow the admins to manage taxes with ease. Activating National Tax System is recommended.
Real-time Analytics
This helps the admins get detailed and informative reports on the performance of the application. These reports should be comprehensible and downloadable. They play a significant role in making data-driven decisions.
In-app Messaging
This in-app chat feature allows the users to communicate within the app. This helps in maintaining an active community of like-minded people. Through in-app messages, players can discuss their experiences with the app. In addition, this makes the app a lot more enjoyable and fun.
Other Rewarding Features
Apart from the aforementioned pointers, there are other features that could help you boost the popularity of your Fantasy Cricket App. The most prominent ones are discussed below.
Prediction of key players
In Cricket, players are chosen based on several categories, including their performance in the previous matches, workload, etc. So, while playing Fantasy Cricket, users need to be cautious of who is playing the tournament. To help users in this regard, the app should provide all necessary information about the players as well as the tournaments.
Interactive quizzes related to Cricket
The app can also include quizzes about Cricket and reward users for every correct answer. This helps the Fantasy Cricket players to score better as well as to improve their Cricket knowledge.
Leaderboard
This augments the spirit of competition among the users. As a result, they are motivated to perform better in every tournament than the previous ones.
Prediction of winners
Games predicting the winners could be included in the app. This boosts the fun factor, making the app a lot more enjoyable.
Prediction of the team players for the tournament
The 'Playing 11' keeps changing for various reasons, as discussed earlier. So to simplify the process of predicting the 'Playing 11', the app could offer possible predictions for the benefit of the players.
Some Statistics
It is said that almost 66.67% (a rough estimate) of sports enthusiasts in India follow Cricket. In other words, approximately 6 out of 10 sports followers are Cricket enthusiasts (with or without other sports enthusiasts, as every individual might have one or more favorite sports).
Summing Up!
All that being said, it should now be explicit enough that a lot goes into Fantasy Sports App Development. Also, it is no doubt that Fantasy Cricket will continue to be supported and will have a decent growth curve in the coming years.