How to create stunning photo effects using third-party software, and why do we need such software?
Photo editing is increasingly becoming more of a business than ever. There has been a rise in photo editing among all sorts of users, including professional photographers. You can enhance your pictures to make them more visually appealing to your audience.
Since mainstream software such as Photoshop requires a lot of time and practice, casual users prefer third-apps such as Vertexshare, Snapchat, and Instagram, and many such online tools to edit their photos.
Overview of Vertexshare Photo Effects
Vertexshare Photo Effects is an easy-to-use application that helps users to edit their pictures. It offers the best from a plethora of online websites in the form of a downloadable application. Unlike regular filters in similar apps, which apply the same formula of contrast and image noise to every image, Vertexshare Photo Effects allows us to create our custom filters and enhance every picture to our liking. This workflow is similar to Photoshop, a highly advanced version of photo editing.
The software developers have designed Vertexshare Photo Effects for beginners who don't have a lot of experience with photo editing. There are many effects which the user can leisurely explore. It also provides more niche and valuable features, such as tone mapping and shadow highlighting. These features utilize intelligently engineered AI for producing professionally edited photos.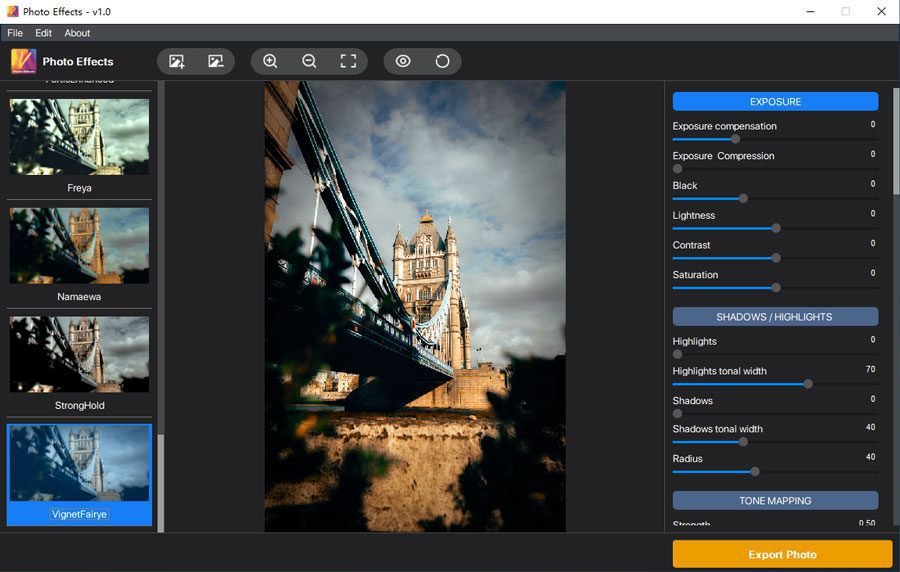 Benefits of using Vertexshare photo effects
Vertexshare Photo Effects has a definitive edge over other photo editing applications, as it brings the best of both worlds to the users. If you are considering switching over to Vertexshare Photo Effects, you should check out these lucrative benefits the app offers:
Create and edit stunning photos quickly.
Enhance your photographs like a true professional by using inbuilt presets.
You can make good use of advanced algorithms specifically designed to generate interest in whoever sees it.
If you are a complete novice in photo editing, you can still use this app with ease.
It processes photos of great size at lightning-fast speeds.
This app showcases easy-to-understand formats and features. You don't need to go far and wide to find the parts you want.
How to use Vertexshare Photo Effects
Keep in mind that your laptop should be fast enough to run this application smoothly. The steps to use this software are as follows:
1. Go to Vertexshare.com and choose Vertexshare Photo effects.
2. There are download options for both Windows and Mac users.
3. After downloading the application, please open it and import whatever pictures you want to enhance.
4. After importing the pictures, you can use the various features and sub-features of this application. Here are some of the features you should know.
Exposure: This feature allows us to adjust the photo exposure with various functions such as lightness, contrast, and saturation.
Shadows and Saturations: This feature allows us to change the highlights, shadows, and tonal widths of the image.
Smart-DRC Method: This method helps us in dynamic range compression and other cool tech-savvy features.
Sharpness and Noise Reduction: These features visually enhance the image to make it more transparent and higher resolution.
Others: There are many similar photo effects that you can bring into your stock photos and convert them into stunning images almost instantly. To apply these effects to your photos, scroll down the box on the right side of the home screen and use the relevant bar to enhance your images.
5. When you feel satisfied with the pictures, click on export. Save the images to finish. If you want to export this image to another application directly, you can click on the export icon at the bottom right corner of the screen.
Conclusion
Vertexshare Photo Effects is a very futuristic and valuable tool. Many people can make great use of it. If your workflow allows it, you can spend a lot of time editing these photos with every feature. Otherwise, many users can also develop their custom filters and apply those settings if they work with a large volume of images at once. Either way, Vertexshare Photo Effects is a handy app that can cater to many users. Its simplistic design is convenient for users with little time on their hands. Therefore, Vertexshare Photo Effects is a brilliant choice for many.