Teachers and business people rely on PowerPoint very much, especially when they need to create business presentations, school syllabus or lessons. Thanks to PowerPoint, you can present your content visually. Unlike Microsoft Word, content can be presented as a summary, with images and bullet points. Since the content layout is very visible and comprehensive, your students or clients can easier follow what you are talking about.
When working with PowerPoint, you will probably find yourself in a situation when you need to save your presentation in a PDF. PDF format is better if you want to print your presentation, or if you want to send it to another computer or a projector. If the other device doesn't have the same version of PowerPoint, chances are that your presentation won't look the same. That's why it is recommended to save the presentation as a PDF once you complete it.
But what to do when you need to reuse your old presentation, or to make additional edits to the presentation on some other device? You can convert that PDF to PPT and the .ppt file will correspond to the version of PowerPoint that is installed on that computer. Since you cannot expect that every computer you are using when delivering a presentation, has installed PDF conversion program, it is better to rely on online tools instead.
Here is the best way to convert PDF to PPT online and for free: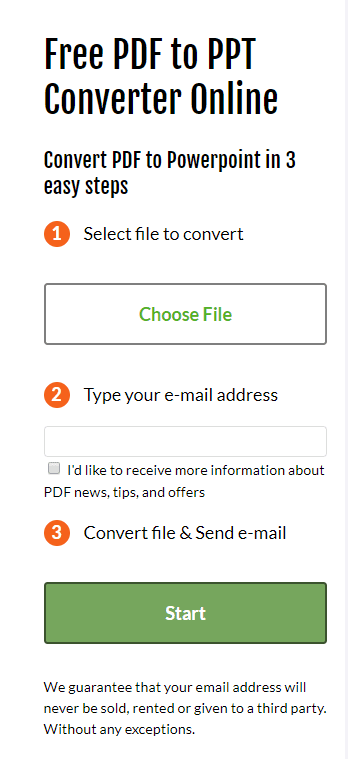 The first step is to choose a PDF file. If you use your own computer you probably know exactly where the file is placed. If you use a computer at school or in the meeting room, you can transfer the PDF via usb or via email. You can also use the search box and type the name of the PDF to locate it.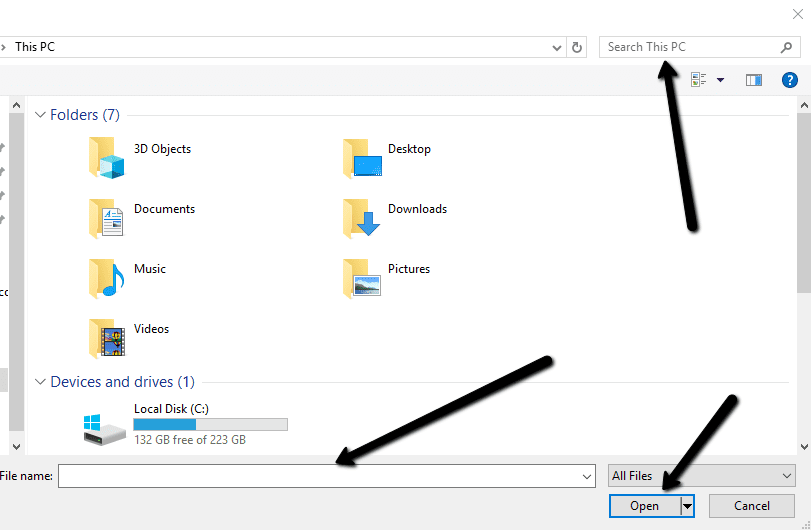 When the PDF is selected, click the Open button.
The next step is to enter the email address and to click the Start button.
In a few moments you will receive an email with the instructions to download a converted file.
The instructions are very clear, you just need to open the provided link and click the Download button to save a converted file on a computer.
Advantages of PDF to PPT Converter
OCR technology
This free online PDF to PPT tool converts even scanned PDF files thanks to its powerful OCR technology.
No limits on the file size
There are no limits on the file size, but have in mind that you can wait longer if the file is bigger.
Convert PDF to PPT on every device
Since the tool works online, you need to have an internet access but the good thing is that it works on every device: a mobile phone, a tablet, a laptop, a desktop computer (Windows, Linux, Mac).
Privacy guaranteed
Your privacy is protected so you don't need to worry if your email address will be sold or given to someone else. The whole conversion process is done by servers, and no human being is actually looking at the content of your files. After 24 hours, the files are deleted which keep servers uncluttered and fast.
Next time you are delivering a business presentation, or giving a lesson at school, don't forget to try this free PDF to PPT converter. It will save you much time and you won't need to make a presentation from scratch.
Read Also How To Edit Any PDF Using Your iPhone