8 Accessories that will Help You Improve Your Mobile Photography
Have you ever noticed that your friends take incredible images with their mobiles and yours are just… not good? Join the club, it isn't just you. For those of us who lack the natural talent for snapping a good pic, there are accessories to help us fake it till we make it. If you want to up your photography game, check out the below mentioned accessories.
Have you ever tried to manage the delicate balance of achieving the right angle and reaching your thumb, or finger, across to hit the button to take your picture? It can be challenging, and the quickest way to lose the perfect photo. Why not opt for a remote trigger so you don't need to worry about your fiddly thumbs ruining every photo you've ever taken? You can always use your headphones, but there are accessories available to make the job easier (and don't need to be plugged into your phone to work), especially if your mobile is mounted on a tripod.
There are a wide variety of lens types in the market that are compatible with mobile devices. All you need to do is find the one that's right for you and your mobile. It all depends on what types of photos you take and the type of shot you like to capture. There are several types of lenses available online Example: wide angle lens, fisheye lens ,macro lens etc. You can also find rotating lenses that brag nine different lens types. You don't need to spend a fortune on a brand new professional camera, you can just invest in a great lens and turn your phone into something spectacular.
The Ultimate Selfie Stick
Sure, you can opt for your bog-standard selfie stick that does the job in a pinch, or you can choose the ultimate. These bad boys are compatible with just about any device (it can even handle the GoPro!), super secure, and comes with a longer pole. It's the ideal option for the most extreme photo ops. Of course, caution is advised, you should always be sure you can safely take a photo before doing so.
One of the most frustrating aspects of mobile photography is the lighting. It doesn't seem to matter how hard you try to get it just right, something goes wrong and botches the shot. Well, why not opt for a clip-on light to up your game? You get total control over your lighting and know exactly how your photo will look before you snap that picture. If you aren't sold on the clip-on option, there are plenty of solo lights available to provide extra lighting by simply plugging into your phone jack. Of course, these options drain your phone's battery, while the clip-on is battery operated.
If you're going to take pictures on the go, shouldn't your device be waterproof so you can get action shots in the water? Of course! Invest in a heavy duty, waterproof case to keep your phone protected, not just from splashes but from total submersion. This is especially useful if you're taking a chest mount and heading out for a snorkel.
Speaking of the chest mount, this is an excellent accessory to capture the most exciting moments you experience. Whether you're teaching the little one to ride a bike, going bungee jumping, or just heading for a surf, a chest mount can record everything. It's ideal for climbers as it provides the perfect angle to capture all of the action. While the majority of people may rely on their GoPro for this type of activity, the chest mount accessory will allow you to transform your phone into the ultimate tool to catch the fun. You can upload the video or grab the best stills from the footage.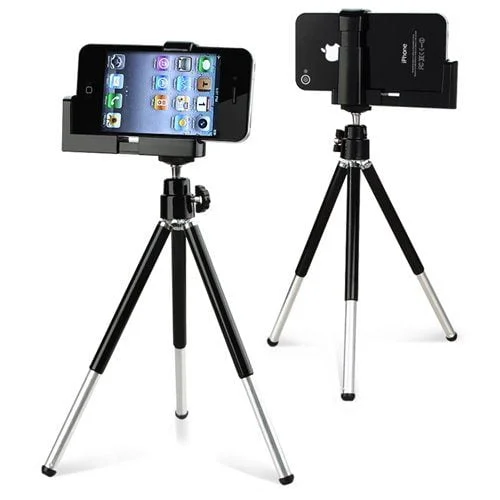 There's no lack of options on the market when it comes to mounts. You can choose the sturdy option or go for the flexible one that can bend and mould as you need it to, ensuring you can get a great picture no matter where in the world you are. The Gorilla Pod offers an unlimited amount of flexibility and options when it comes to securing your mobile to get the best shot possible. It can bend around a branch, handle a fence, or even secure itself to a rocky surface. It's the ultimate mount for all of your mobile photography needs.
With all your live action photography shots, you've probably forgotten to give your lens a wipe down to keep your shots crisp and clear. You can opt for moist wipes or a special microfiber cloth to keep your lens smudge-free. Either way, any good photographer knows how important it is to keep a clean lens.
You love taking pictures, right? Well, if you want yours to look as great as everyone else's you should consider the equipment listed above as a great springboard to success. Now you can take amazing pictures with ease and better yet, you can do it with a discount. Check out OZCodes for lucrative discount offers to get the best mobile photography accessories for less. Love for photography and creating memories is eternal and when it is supported with apt accessories it can go a level higher.
Read Also Everything You Need to Know About Laminar- Photo Color Editor