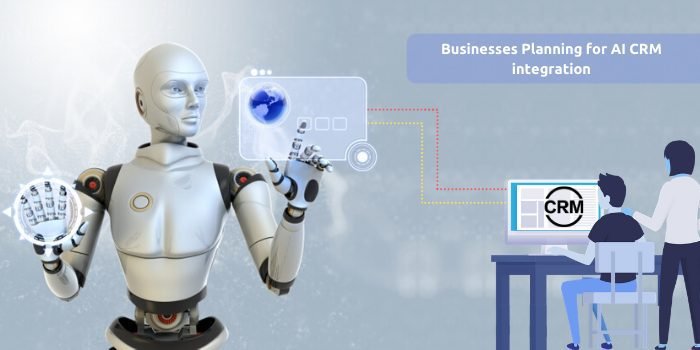 Artificial intelligence technology is not making a new entry to the world. It already exists in numerous facets and has a huge impact on our daily routine. When you talk to Alexa or talk to a voice assistant like Siri, it is the AI that is completing the communication between you and the device. AI is here to bring convenience to our lifestyle. It's there when you search for Netflix to find recommendations to watch a series.
Businesses and organizations have been applying AI technology to enhance their decision-making skills. They are using it in the form of online customer support, process automation, or intelligent personal assistants.
CRM software demand is growing in the enterprise world. The significance of delivering a better consumer service helps understand a business. As per the market experts, the new survey explains that 2019 has been an amazing year of CRM developers since more businesses have spent on CRM solutions and in 2020, the numbers will just get triple. CRM systems have gone through several changes and still, there is room for enhancements and customization. Integrated AI and CRM solutions are made by professionals to improve the customer experience.
CRM system works on real-time data and offers a list of benefits when connected to the ERP software of the enterprise. There are software development companies offering better data integration apps for sales and marketing businesses. Enterprises are approaching them to get a treasure trove of important data with the use of such apps.
Why Business CRM Needs AI Integration?
The business data is rapidly rising and the companies are shifting their needs. Today, businesses require a CRM technology that can also perform other tasks like data extraction, analysis, and interpretation in real-time for instant and quick business decisions.
Here we got a few reasons that explain why a business CRM system requires AI integration-
CRM with AI features will enhance the productivity of the employees and make them super-efficient. The software can assist staff employees in managing calendars, making phone calls, scheduling meetings, taking notes, etc. In short, it will help them completing every routine task which is done manually.
It's like removing all the annoying stuff from the list and doing the job without any stress- heavenly feeling! Here what is removed is actually eliminated from the to-do list of employees as they get it done with the help of software. For instance –
– They don't write notes. They instead use note making tools to record everything. This eliminates the risk of missing any critical detail.
2. Segmenting customers and taking names
AI integrated CRM can help businesses in becoming extra granular in their customer segmentation approach. Using intelligent algorithms, business employees are able to segregate customers in no time on the basis of demographics, purchasing behavior, preferences, etc.
The business management team can access past data related to customer behavior and predict their future behavior for better-personalized user experience. For instance –
– Taking help of big data to target specific type of potential customers instead of large, broadly defined group of people.
3. Make Lead management simpler
Don't expect from your sales reps that they follow up on a lead because they have more tasks to do. When the volume of leads gets exceeded, it becomes harder to manage them all manually. A business cannot ignore a lead, especially the potential ones. AI-enabled CRM software is a revolutionary product that doesn't compromise with any lead and keep up the engagement and follow-ups with leads.
For instance – AI tools replicate and act as sales agents at the first point of engagement between the company and a lead via email or SMS texts.
4. Enhance Customer Engagement and Retention
AI-enabled Microsoft Dynamics CRM software is able to create customized experiences and interactions by reading the emotional behavior of the lead via text-based or voice-based words and conversation patterns.
The technology is even more advanced as it can run a sentiment analysis in real-time. The insightful data help in identifying potential issues in no time so that the company can take proper action to respond to customers.
AI integrated Dynamics CRM can be used to track data from customer interaction and provide you a precise forecast of their intention and behavior.
For instance – Predict caller intent through speech analytics.
5. More closing, less losing
Artificial intelligence empowered CRM is programmed to study a variety of sales scenarios where the deals were dismissed and closed. The software offers deep insights and creates intelligent recommendations during several stages of the sales funnel. This helps sales reps to decide how to close the deal.
It can also help them detect genuine buyers and speed up the sales cycle.
For instance – AI salesforce provides smart suggestions to its users. It explains insights and forecasts to help sales reps so that they can use these elements to their quotes, lead management, and sales pitch.
AI technology is not something you find in any sci-fi movie or serial. Businesses are already leveraging this technology for more profits. AI lets companies evolve to the most powerful CRM. The only thing that matters is the choice of tools. It is always suggested to pick the best tools that match your business requirements.